How a community rocked by a gas explosion united to help those affected | Insurance Business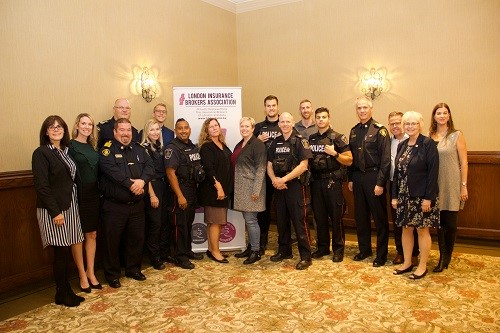 Image: The LIBA Board and guests – First responders who were present at the London explosion, London West MPP Peggy Sattler, and London Fanshawe MPP Teresa Armstrong
In the middle of August, London's Old East Village neighbourhood was rocked by catastrophe when a vehicle slammed into a house at 450 Woodman Ave., striking a gas line and causing a natural gas leak that led to an explosion. Several homes were damaged as a result and seven people (six of them first responders) were sent to the hospital, while nearly 100 homes were evacuated. CBC News reported that the explosion was felt in homes blocks away and the sound carried across a large part of London.
"There's debris everywhere, windows are shattered. We watched the roof fly higher than the trees on the street. The sound was extremely loud. You could feel the explosion go right through you," witness Krystina Curtis told CBC News.
More shocking aftermath on Woodward & Charlotte Aves seen from a backyard on Charlotte also with extensive damage. We are so grateful to have such amazing partners in emergency services & in the community. Thank you to all for your care, concern & support. #community #OEV #ldnont pic.twitter.com/kvl8e7vLFG

— London Fire Department (@LdnOntFire) August 15, 2019
Following the event, the area looked like a warzone, says one insurance broker, and it took months for the community to bounce back from the disaster.
"There's a crater where the one house and the house next door to it were, and the one house was completely destroyed," said Suzanne Pountney, senior commercial account manager at OnWest Insurance Brokers, and political action and social chair for the London Insurance Brokers Association (LIBA), adding that, in the end, the houses on either side had to be torn down, though the impact was felt around the neighbourhood. "There were shattered windows a block away. It's the Old East Village, so most of these homes are at least 100 years old and they're on tiny lots that all back on to each other so the impact was great, and the houses in the streets all around, many of them were affected, even it might have just been something as minor as shattered glass."
Read more: Province to provide financial disaster relief for Dorian damage
It was a sudden and shocking event, but when that shock started to wear off, the immediate coming together of the community to help each other out was unbelievable, explains Pountney. That group included people from the insurance industry, whether it was brokers, agents, adjusters, or restoration companies, who sprang into action and helped take care of those impacted by the explosion, alongside first responders and other citizens.
"You couldn't believe how fast everyone was to react and make sure that these poor people [were] taken care of," said Pountney. "There were people evacuated all over the neighbourhood, so there was buses there to help to keep people warm and most of them ended up being out of their homes for days while they figured out what was being torn down and what was safe. It was crazy."
In the days and weeks that followed, a number of groups started to set up funds for the people affected, and then London-based Libro Credit Union stepped up and established the Old East Village Fund so that donations from community groups could be directed to one place.
Read more: Broker urges policyholders in Quebec to check coverage after storm
"We knew that we wanted to contribute to that," said Pountney, speaking from her position as a LIBA chair. "We knew that individual brokerages – our member brokerages – had already done many things, like collecting clothing and other donations, and toys and stuff for pets to donate as well as fundraising to cash donate, but some of our smaller brokerage members don't always feel like their contribution is going to matter so they might not do that. We figured that if we did something association-wide, then it would be on behalf of all of us."
About two months after the explosion at LIBA's quarterly meeting, the disaster took centre stage as did the first responders who were at the scene of the event, providing critical services to the neighbourhood.
The meeting's theme was 'Thanks and Giving.' The giving part was to donate the proceeds from the 50/50 draw that LIBA conducts every meeting to the Old East Village and accept any additional cash donations, in addition to funds from an auctioned off set of London Knights tickets that were donated to the cause. The thanks part was to invite eight representatives of first responders (fire, police, and EMS) as guests and make a point of thanking them for their work that night, ensuring that there was no loss of life and mitigating the situation as best they could. Two MPPS also attended the meeting.
"That part of it, I think, was way bigger than the donation part. It was super meaningful and I don't think that they get publicly thanked like that very often," said Pountney, adding that the meeting raised $500 for the fund.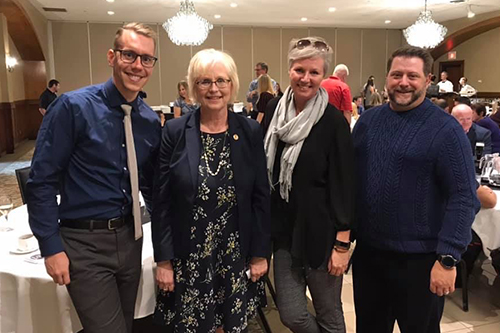 Image: Left to right: LIBA VP Sam Off, London West MPP Peggy Sattler, past IBAO president Traci Boland, and LIBA communications chair Kevin Rivard
The disaster also shone a light on the role that brokers play in their communities following catastrophic events. At one time, there were many insurance companies that had their branch offices in the city, alongside their own claims adjusters on the ground, but over time many have moved away from the city and closed up their London offices, according to Pountney. Now, it falls on brokers to be some of the first people on the ground following catastrophic events.
"Virtually every broker I've spoken to was talking about how one of the best things about having a good database management system is that you can search by address, because all of us, as the news came out about this explosion, were searching our database for Woodman Ave. to see if we had anything insured there," said the LIBA chair. "That's the kind of thing that brokers do now. We're right on top of it – we're going down to the site, [seeing] if there is anything we can take care of, is there anything we can do while we wait for the insurance company, who is also expediting [their adjusters]. We're the insurance first responders, if you will, and we're the ones that have the relationship with the client as well."