Manitoba brokers empathize with Alberta counterparts | Insurance Business - Page 2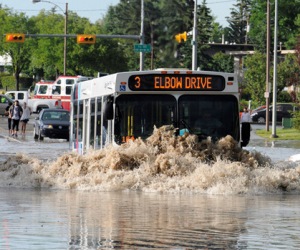 "We had to be quite patient and explain that basically few companies will insure it, but not that many. Once you explain how much the premium is, [clients] are more understanding. But they're still not happy because it's quite a shock that they are going through."
Insurance coverage for flood waters seeping into homes and businesses from the exterior of the building is not available in Canada under standard home and business policies. Overland flood coverage is available if homeowners or business owners wish to purchase an extension to their policies, although Manitoba brokers say many consumers will balk when they find out the additional premium costs to purchase it.
Flood insurance is available for flooding that originates inside the home or business, most commonly in the form of sewer backup.
"We usually sell the sewer backup coverage – it's big in Manitoba," said one Winnipeg broker who identified herself only as Kim. "That's dirty water coming up from your sewer drains.
"At that point, we advise them that there is no flood coverage for overland flooding. Sometimes you do have the overland flooding, and it also causes the sewer to back up. In that event, they do have coverage for that."
Manitoba brokers say the number of flooding events in the province has provided ample opportunity to explain to clients the lack of coverage for overland flood. As a result, clients are less likely to call their brokerage offices to clarify coverage after a flooding event, since they already know they aren't covered.
Still, Manitoba clients have made insurance claims knowing they are not covered. Government assistant programs in the past have required claimants to demonstrate that insurance will not cover their claims.