IBAC's data exchange plan takes a step forward for the benefit of brokers | Insurance Business Canada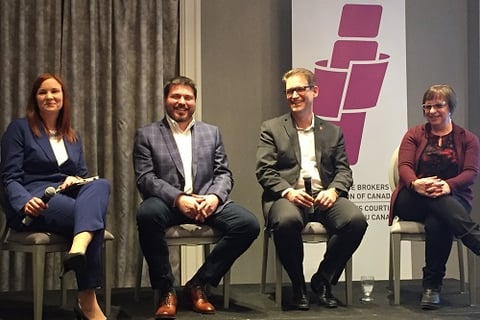 Taking another step towards easing the movement of data and improving the efficiency of broker workflows, the Insurance Brokers Association of Canada (IBAC) has launched the next phase of its data exchange action plan, which will involve brokers, vendors, and industry stakeholders coming together in a working group to help develop and bring to the market a reusable data services library and testing facility.
This comes after IBAC established its data exchange principles, which were reaffirmed by vendors last year as the best strategy to advance connectivity within the broker distribution channel, with the end goal of IBAC's action plan being the facilitation of real-time connectivity in the Canadian P&C insurance industry "as quickly and cost-effectively as possible," according to the association.
Read more: CSIO, IBAC pleased with broker support for eDelivery solution
At the kick-off event on January 29 to introduce the next phase of the initiative, IBAC representatives, and speakers from the vendor and carrier communities outlined the key pain points facing the broker community today and how data exchange can alleviate these issues. For one, workflows can't be completed in one action, explained Kim Opheim, who heads up IBAC's broker technology and innovation initiatives.
"A broker receives a service request – maybe it's a policy change – and they can't do it in one action. Maybe they have to call the insurance company to find out when the next premium is due, or they have to wait for the download to fully answer a customer's question. Either way, they can't complete the workflow in one action, which is a waste of time for everybody in the distribution channel," he said, adding that there are also errors in around 85% of transactions for something like a policy change, which then have to go back for reprocessing. "If we want to drive costs out of the channel for everyone, carriers and brokers alike, solving a problem like this will make for a better user experience and reduce costs."
Read more: CSIO's commercial lines working group gets four new members
Another problem that brokers encounter is the double-entry of data, which in part occurs because of the number of carrier portals that brokers have to work in to fulfil a service request. In fact, said Opheim, portals go against the data exchange principles because in order for a broker to use one, they have to leave their broker management system, in turn disrupting their workflow.
Moreover, data movement can't be solved by only one vendor-carrier partnership. Critical mass is required, so that all 10 carriers that a broker might work with have a real-time policy change workflow in place, and not just the one carrier out of 10 that might have solved this issue on their own.
"What we have to see happen is that carriers adopt new features and functionality as they become available so that the broker can have one workflow for every transaction," said Opheim.
The bottom line is that for brokers to service clients effectively, they need to be able to receive data from a carrier, pull it into their BMS, and then be able to act on a service request efficiently.
"Plumbing is not a competitive advantage," said the IBAC representative. "For way too long, data movement has been viewed as a proprietary solution and that's really actually hindered the servicing of our customers, and, again, ended up in a less-than-optimal customer experience."
With the ongoing retirement of legacy systems taking place right now in the insurance industry, there's an opportunity for carriers to modernize their backend systems, keeping the broker in mind as these channels are improved upon so that they enable, rather than hinder, the free movement of data from the carrier to the BMS.
Read more: The work of the broker will undergo "an evolution, not a revolution"
The library and testing facility that the IBAC working group is focused on will compromise of CSIO standard-compliant reusable services that can be shared, in a similar way to how apps can be downloaded from app stores today. Vendors and insurance companies will thus be able to create and deploy capabilities across a variety of different platforms. According to IBAC, the working group has a goal of creating four to six reusable data services in 2019, with the first transaction type to be developed being the first notice of loss.
Transaction use cases will be created for both personal and commercial lines, and the library will be "vetted with insurance carrier participants, tested in the CSIO Testing Facility for data standards compliance, and then released into an industry repository for use in production environments across the industry," reported IBAC.
At the event, vendor and carrier panellists sounded off on the usefulness of the reusable data services library and the importance of this next move forward in the data exchange project.
When asked about the greatest threat posed to the broker distribution channel, Steve Whitelaw, VP of IT planning, execution and operational effectiveness at Travelers Canada, said that it's the risk of losing the customer to insurtechs who see the potential in disrupting this channel.
"The opportunity we have here is to close that window of opportunity that they see through the efficient exchange of data and digitization, and all the good things that come with it to ensure that there isn't an opportunity to lose the customer," he explained.
Later on, Colin Jackman, VP of enterprise architecture at RSA Canada, underscored the need for insurance industry participants to work together on bringing the data exchange action plan to life.
"It is a competitive advantage for the channel, not for the individual brokers or carriers," he said. "It's something we need to do as a broker channel to enable our move forward."