New products in hours, not months: Why collaborative spaces work for this insurer | Insurance Business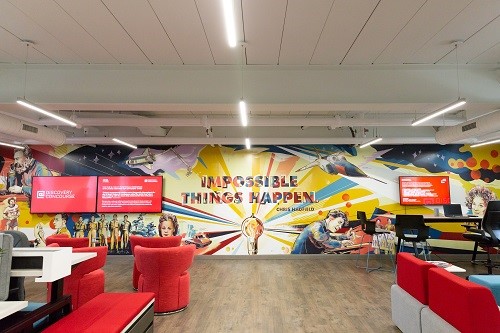 credit Lemon Lime Media
From digitally-powered insurance solutions to partnerships with insurtechs to community-focused hackathons, the Canadian insurance industry is stepping up its innovation game. As companies map out their future and decide what their innovation strategies will look like in the coming years, part of the transformation also often involves updating the very workspaces in which brokers and other insurance professionals work.
Gore Mutual unveiled its own modernized offices in September 2018 at its campus in Cambridge, Ontario, taking rooms filled with boiler equipment and storage, and turning them into a bright, modern, and functional space that now contains an innovation lab, breakout spaces and meeting rooms, a multimedia studio as well as a café bar. The Discovery Concourse is a new approach to innovation and collaboration at the mutual company.
"Discovery Concourse is how we look at the future of work within our office, so the modernization of work, how we collaborate within our office and what that means, how we attract millennials, and thinking about what we want to do in terms of creating a digital, modern culture within our office," said Igor Bubic, director of marketing and communications at Gore Mutual.
The Discovery Concourse will act as a blueprint for the rest of the Gore Mutual office as the company begins incorporating open and collaborative spaces across specific departments, added Bubic, which is beneficial when staff tackle product development, for example, that can require the involvement of multiple teams.
"When we have the right collaborative space, get all the people in the same room, and build that product from end to end, it takes hours versus what used to take us months to build a product. That space defines how we work and how we create efficiencies," said Bubic.
Gore Mutual's team members aren't the only ones who benefit from the revitalized offices. The company regularly invites brokers, whether they have a contract with Gore Mutual or not, as well as insurtechs, reinsurers, technology partners and even other carriers to the innovation lab located within the Discovery Concourse to collaborate on solving industry issues. Using a design-thinking methodology in short sprints of brainstorming and problem-solving activity, the partners who come together often find they can deliver ready-to-go beta products for brokers that address various business problems in as little as five days.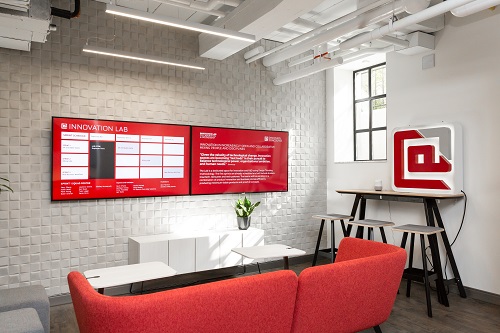 Credit Lemon Lime Media
The first sprint tackled the question of how to use IoT to mitigate flood risk. Brokers, Gore Mutual's internal teams, and an external vendor were all brought in to work on the problem together. The result at the end of the week was a beta solution that Gore Mutual was then prepared to test.
Read more: "Our future is in broker distribution, but not the broker distribution we have today"
A Discovery outpost in Collingwood will meanwhile mimic the Cambridge concourse in a broker environment where Gore Mutual will be focused on building the 'broker of the future.'
"We're going to invite brokers to come there, create, iterate and do things in real-time, with real customers in a real brokerage," said Bubic. "The outcome of broker of the future is that we want to create a retail model for what the broker of the future is going to look like from the customer experience, from the technology experience, and from the retail experience. Once we're done all that, we're going to give away our IP for any broker that wants it."
All signs point to the fact that brokers are eager to be along for the ride on Gore Mutual's innovative journey, considering their shifting attitudes towards digital solutions.
"I think it's changed substantially," said Lori Bader, senior director of national sales and business development for Gore Mutual. "Where it was 'maybe we don't need to do that' before, I think there's a great interest in learning more about that space, and there are several brokers that are really forging right ahead with digital parts of their business."