Steve Jobs, Star Wars and a stunning panorama: A tour around Aviva's Digital Garage | Insurance Business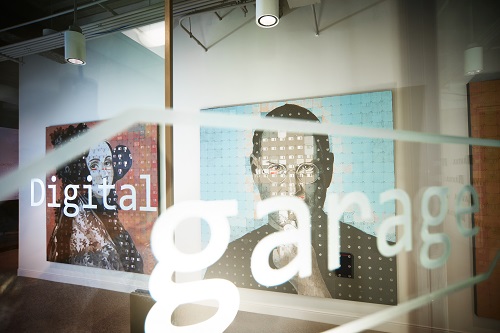 "Come on in," says a 5x5 foot portrait of Apple mastermind Steve Jobs embedded onto a load of old floppy disks.
If that doesn't entice your interest, let your eyes wander to the two iconic ladies sandwiching the technology juggernaut: Ada Lovelace and Susan Kare – Aviva Canada's not-so-subtle reminder that women have played a pivotal role in the world's technological evolution.
Welcome to Aviva's Digital Garage. It's located on the 49th floor of a corporate high rise in the heart of downtown Toronto. Found at the crossroad of Bay Street (known for its tech focus) and King Street (financial-focused), this is a true fintech hub.
If you arrive at the Digital Garage expecting to be surrounded by the familiar yellow and blue hues and huge Aviva logos printed everywhere … well, you're in for quite the surprise.
Rather, the phrase 'geek couture' could not ring more true.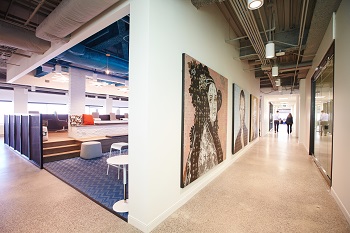 This fresh, open workspace has it all: from high tables, low tables, round tables (really any type of table), to meeting spaces made from recycled shipping containers, and a board room named Hoth in testament to the fictional ice planet and home of the Rebel Alliance's secret base in 1980s Star Wars blockbuster The Empire Strikes Back.
Let's hope the meetings held in that boardroom are not as icy as the planet.
If Star Wars doesn't float your boat, you can always take a meeting in the Bat Cave, the Fortress of Solitude or even Xavier's Institute. There's something for everyone with even the slightest appreciation of fantasy or science fiction.
Rather than dismiss this fun geek couture as trivial, take a moment to think of it as entrepreneurial. All of these cultural references are a true testament to the imagination, which is what the Aviva Digital Garage is all about: innovation and turning bright ideas into reality.
While Darth Vader might never actually appear in reality (sorry Jedi believers), the projects cooked up in the Digital Garage have every possibility of bringing change to the insurance industry.
To celebrate this, the insurer asked employees to contribute ideas for an 'evolution of tech' wall – a 10-metre long montage celebrating technological achievements throughout history. It features everything from the first fax machine, to the original Sonic, the evolution of Apple, and future possibilities like flying cars.
Anything is possible when you start with a blank canvas.
If none of my Star Wars ramblings persuade you that this is a cool office, then you just need to take a look at the view – a huge selling point for this innovative workspace. The space is surrounded by a panorama of the city, with amazing views out west towards Mississauga.
So here's the question: Does an exciting, fresh, flexible workspace mean better ideas and results?
Aviva certainly seems to think so.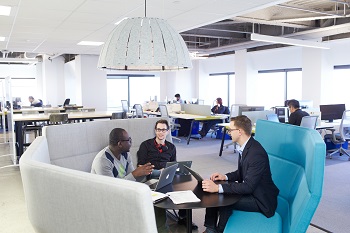 The space has already birthed some interesting projects and been a major starting point for insurtech startups. Together with scale-up innovation hub OneEleven, Aviva Canada recently chose the startups that will participate in its Insurtech Growth Program, with the aim of bossing the insurtech ecosystem in Canada.
They pitched to the insurer in the Digital Garage Thunderdome – an open theatre-esque space in the middle of the innovative hub where Canada's best and brightest tech minds collide and collaborate.
Related stories:
Aviva Canada selects the start-ups to participate in insurtech program
Aviva Canada aims for 'strength to strength' after tough year