The broker case for insurance apps and portals | Insurance Business Canada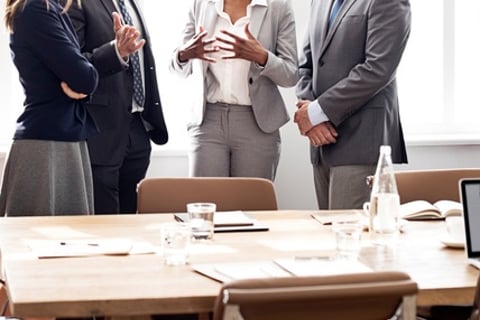 The broker channel is strong but under threat from rapidly accelerating technological advancement, coupled with the public's desire for everything at their fingertips.
So how can brokers turn technology into an asset instead of an employment-risk?
Learn more about insurance broker insurance here.
Customer experience experts Srinivas Thota, associate vice president, and Razi Parvez, the regional business head of Kumaran Systems, advised brokers at the Insurance-Canada Technology Conference on using tech as leverage.
"Around 65% of the Canadian premium income today comes from the broker channel, for now it's a very important channel but it's been predicted that by 2025 the majority of income for businesses will come from an online channel," Razi Parvez said.
Parvez talked about segmenting the market and managing strategies to interact with the next generation differently.
"Just imagine the power a broker would have if he gets the view of a number of customers, the client policy information, the recent claims made by specific individuals and sees what offers can be done (on the same digital platform)," he explained.
Want the latest insurance industry news first? Sign up for our completely free newsletter service now.
Creating total and unique customer profiles could translate data into income by driving up retention, argued Srinivas Thota.
"We all know carriers sit on a huge amount of policyholders' data and it tells them about what kind of claims they might make. But if you're going to look for more, location-based analysis, customer profiling, start building that 360 degree customer profile," Thota said.
"On one side we have traditional data and on the other side you have behavioural data like health pattern from a fitbit, driving style (from a blackbox) and social media. If a person has a lot of followers on twitter they could be an influencer."
Agency portals and apps can generate cross selling opportunities said Thota, advocating for using loyalty rewards and customer appreciation features as a client retention method.
Connecting clients with preferred vendors is another strategy for retention.
"Connecting with a partner network is where you have an interface and you give it to the client and the vendor," Thota said.
"The partner network can be with a body shop, where after an accident you schedule an appointment and at the same time share the policy information to them (body shop) and the information can be processed much faster."
Everything from weather notification apps to "Happy Anniversary" messages were digital methods of engaging with clients, Thota said, and could come from a single agency app.
Related stories:
Do brokers dislike digital signatures?
Don't forget maturetech while you're falling for insurtech