"We needed to completely transform our organization" | Insurance Business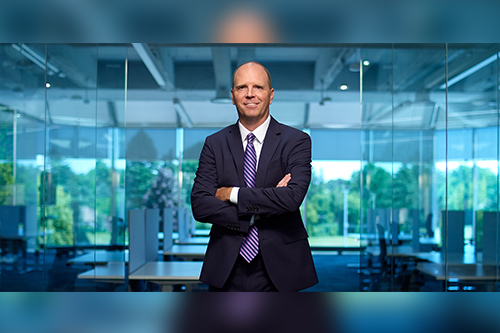 The coronavirus pandemic has certainly thrown a wrench into the plans that many insurance leaders had in mind for their companies in 2020. However, that doesn't mean they're resting on their laurels – at least, that's not the case for Andy Taylor (pictured), who came into the role of president and CEO at Gore Mutual in July of this year, and has promised to deliver a "bold" new strategy that will "radically transform" the 181-year-old insurance firm.
When speaking with Insurance Business, Taylor called the strategy "our most ambitious … in the history of our company," as the mutual insurer seeks to become a "purpose-driven, digitally-led national insurance company." He continued: "We recognized that in order to accomplish that vision, we needed to completely transform our organization."
There are a few key components of the 'Next Horizon' strategy, which was officially introduced in January 2020 – the first being a transformation of Gore Mutual's target operating model. This involves a move towards a best-in-class model to introduce standardization, specialization, and scalability into the business. Gore Mutual is also replacing the technology that underpins its main systems in a refresh that will result in one core platform. Finally, Gore Mutual is mapping out a national expansion strategy to take it from being a mid-size, regional carrier to a national scale insurer.
Infusing the company with a high-performance culture is part of the 'Next Horizon' strategy, but so is being purpose driven. As a mutual insurance company, "We feel that we have a unique opportunity to differentiate ourselves in the market with a combination of being a purpose-driven organization – so standing for something meaningful in the world and being able to make an impact – but at the same time, being a high-performance company that is competing against the best in the industry," said Taylor.
In the meantime, the new leader has had his hands full managing the company through a pandemic. Taylor's top priorities have included focusing on employees' physical and mental well-being. The company has been affirming to its staff that there's no need to come back to the office anytime soon, explained Taylor, especially as the virtual model has been working so well. He added that leadership is also concerned about work-life balance, and some of the wellness and mental health issues that are emerging in this new world, where people can be in virtual meetings for 12 hours a day. Finally, clearly communicating the 'Next Horizon' strategy and his priorities to the Gore Mutual board, as well as employees, is top of mind for Taylor.
Read more: How insurance carriers have supported brokers through COVID-19
There are some silver linings that have come out of the pandemic. For instance, Gore Mutual can take advantage of the opportunities offered by a hybrid workforce, and build out a team supported by world-class experts, without being restricted by geography.
"We don't necessarily see the world going back to 9-to-5 in an office, which has allowed us to attract talent from all across the country to our team," said Taylor.
Of course, the last six months have not been without their challenges. Leadership had to take some time away from the implementation of the new strategy to respond to the pandemic and adapt company operations. However, the crisis gave the new leadership team an opportunity to work together to respond to a major hurdle, which Taylor says accelerated the development of culture and spirit of teamwork.
"We also took the opportunity during the crisis to work with some of our global consulting partners to help us through the journey and embrace the concept of innovating our way out of the crisis," noted Taylor. "I was very clear that we were not going to stop investing in our strategy, that there was no change to our strategy as a result of the pandemic, and, if anything, we accelerated a number of initiatives."
During the past few months, Gore Mutual has reworked its claims servicing to introduce workflows that will standardize and specialize its claims processes. The insurer also did some stress-testing to look at the potential impact of the pandemic on its own business, as well as the insurance industry and the global economy. This helped it pinpoint certain classes of commercial business that it expects will be resilient to the pandemic, while expanding and growing its presence in other areas to offset risks.
Read more: Gore Mutual selects Guidewire platform for claims management
Overall, Taylor told Insurance Business that the new strategy is "off to a great start." From a technology perspective, Gore Mutual has already completed its first sprint, and continues to work with partners to build out digital capabilities. The mutual insurer is planning a full launch of all personal lines on the platform by summer of 2021, accompanied by complete broker connectivity.
"What I've been very clear on is the pandemic did not impact where we're going," said Taylor. "If anything, we've escalated some of the work … and it's just reinforced the importance of our transformation."