What's holding insurers back? | Insurance Business Canada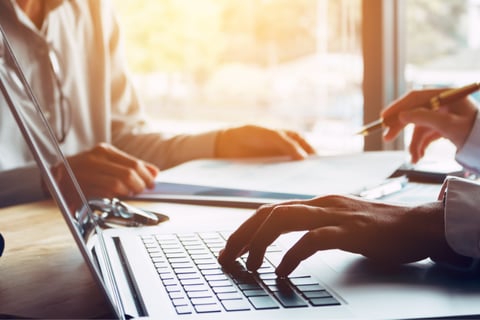 Insurance organizations have traditionally gone about technology and software procurement the wrong way, according to Anthony Grosso, head of marketing and communications at EIS, a core and digital platform provider for insurers.
"I think insurance companies do themselves a disservice in how they purchase new software," he told Insurance Business. "They are going in with a very strict procurement process and doing very rigid RFIs [request for information] and RFPs [request for proposal], and then they have a very secret buying process where they'll say to the vendor: 'Come in for this day and show me these features, come in the next day and show me those features, and then come and talk to me about this specific technology'. Then they go off internally and talk about it themselves until they make a decision. The sales cycle for this software is anywhere from six to 18 months […] and sometimes there's up to 40 evaluators at the insurance company."
Grosso believes that overly rigid and defined technology and software procurement processes are hindering the insurance industry's much-needed transformation.
"It's a disservice," he stressed. "This core software is such an important part of their business; it's their beating heart. And because it's changing so fast, really what insurers should be doing is going the opposite way and opening everything way up. Of course, they should get it down to a couple of vendors they want to talk to, but then it's important to have really transparent and open dialogues, and do POC's [proof of concept] instead of filling out a 1,000 line questionnaire. It's important to experience the software and experience what it's like to work with that vendor."
Read next: Digital insurance platforms could be worth $211 billion by 2026
Grosso acknowledged that conducting POCs comes with a price, especially if an insurer is experimenting with multiple vendors at the same time, but he said that's worth it in order to find out if a vendor is the right fit and their software meets the right transformational needs.
"The only way to do it is to experience it and really have those open, transparent conversations," he said, "but that happens so infrequently, because of the very rigid beliefs of what procurement processes should be."
Aside from procurement processes, one roadblock that incumbent insurers often come up against when engaging in transformation and updating their core software is legacy systems. The question is: How can insurers participate in a new digital ecosystem when their legacy systems are not built for APIs and have no external capabilities to tap into cloud-based technology?
Read more: Broker technology – the sticking points inhibiting digital delivery
What Grosso and the team at EIS say to combat that challenge is: Focus on the new.
"Don't worry about your existing traditional book," he said. "You have a new product, a new market, something new that you want to get into - let's focus on that. Let's keep ourselves totally separate from the legacy, and let's get you into the new, whatever that is, and then start building up that business. Then, when you become experts in that [new] system, you can look at your traditional book of business to figure out what's the next piece that you want to bring on to that new platform.
"And so, you are running in parallel with two systems for a period of time. Trying to tackle the conversion of the legacy book at the same time you're trying to do the new creates an intensive amount of risk and time that [isn't necessary]. You already have that [legacy] premium. Let's go get the new premium that you don't have, you then become the expert, and then we can focus on converting your traditional book [for the new systems]. That's been the best practice that we've been identifying - it's just focusing on the new."