What's next for Gore Mutual? | Insurance Business Canada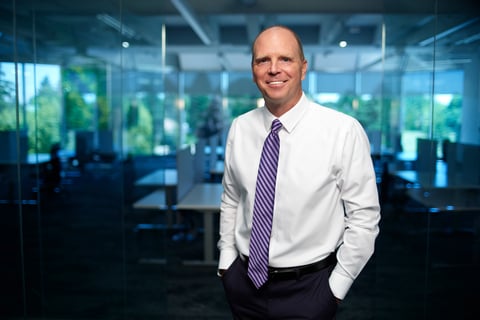 Gore Mutual's 'Next Horizon' strategy is in full swing, with 80% of the process complete in less than two years and plans in place to scale as a digitally led national insurance company by 2030.
"There were three key pieces to the initial transformation that really enabled us to scale our company," Andy Taylor (pictured), CEO of Gore Mutual, told Insurance Business. "The first was a complete redesign of all our operating models. We moved away from being a generalist organization where many of us were wearing different hats."
Read more: Gore Mutual reaping rewards from new operating models
The second piece of the transformation was replacing technology with industry leading cloud-based solutions. After the new operating models and technological platforms were locked in, the third piece of the puzzle was investing in talent.
"Over the past two years we've added over 200 new employees to the organization to continue supporting specialization and growth in new provinces and product lines," he said. "Since we spend every day on video calls, we were able to integrate and onboard our team much faster than we would have in a traditional business environment."
In Q1 2022, Gore will be launching a refreshed brand in the marketplace and a new Toronto office, repositioning the company to attract leading industry talent.
"Those three pieces are effectively rebuilding our company over a two- to three-year period so we can scale the company over the next decade," Taylor explained.
With a focus on national growth, Gore is looking to expand in existing markets with established partners throughout 2022, then leap into new provinces in the latter part of 2023.
The challenge to overcome this year is building further capabilities in terms of product, pricing, and distribution, according to Taylor.
"There are a number of new capabilities within the platform we've built so we can quickly add new products," he said. "In 2022, we're looking at UBI and launching the telematics-based product - we're also looking at group personal lines capabilities, which we have experience in but hope to expand on."
The CEO noted that, technologically, the company has made the bold decision to move away from incremental improvements and completely replace its systems in an accelerated timeframe. Along with creating a cloud-based platform, another key strategy for Gore is prioritizing digital connectivity and automation.
"With our broker partners we have 100% connectivity to their management systems in our new platform and that's creating a significant improvement in service and speed," Taylor added.
Creating a robust operating system comes with countless challenges to overcome with regards to the integration of legacy data, but, by completely replacing its data architecture, Gore has been able to easily migrate data into the new platform.
"This year we have made a data strategy that we call one of our strategic boulders. It's an area we're focusing on and will be a significant advantage for us in the future, but it will take us some time to get to maturity," he noted.
In the midst of so much change, keeping brokers in the loop has been vital so business has not been disrupted. Early in the transformation program, Gore established a broker panel to give them the opportunity to explain what they've seen carriers do well, where the biggest pain points were and to learn from their valuable insights.
Read next: "We needed to completely transform our organization"
"We have specifically aligned out Next Horizon strategy with broker distribution," Taylor added. "We see a significant opportunity to grow with our regional and national consolidating broker partners in the coming years now that we have the level of automation we needed."
Brokers are able to create a better customer experience with increases in speed and efficiency, and the organization will continue to work diligently to transform its entire servicing model.
"We're calling 2022 our most ambitious year ever with the goal to have 15% overall growth that will get us to just under $700 million in premiums," he said. "There's one final phase left to complete - our commercial lines business which is the remaining 20% of the transformation – and we hope to have it finished by mid 2022.
"Commercial lines are a bit more complex from a product perspective, but the technology is already in place which sets us up for success this year."