Global health benefits provider officially opens Canadian offices | Insurance Business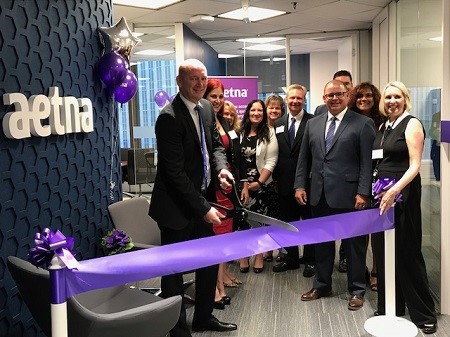 Eight million expatriates live in Canada and almost three million Canadians call countries abroad home, according to global health benefits provider Aetna International, which offers customized health insurance solutions to employers with outbound and inbound Canadian expats.
Based on its' role serving this customer base, it made sense for Aetna to set up shop in one of the country's major financial hubs. On August 21, the Aetna team in Canada officially opened its offices in Toronto with the cut of a ribbon (pictured) and a champagne toast to mark the newest chapter of its Canadian operations.
"We've been operating from the US with our sales and service operations in the US supporting the Canadian business, but we determined that doesn't work very well. We need to be here as Canadians," said Jason McCormick, Aetna International's head of sales and services for Canada. "You just have to have the expertise and the knowledge of the Canadian business landscape to serve the market appropriately."
Canada, as with most countries, has a unique healthcare system in addition to a global workforce, making Aetna's global perspective a good fit to serve this market, added McCormick, who joined the company a year ago when it was growing its Canadian team. The move up north was in total a three-year process and, during that time, the company was building the infrastructure to support the business while growing its customer base.
"There's been significant appetite for another robust comprehensive expat provider in Canada and we're already seeing some of the success of that. We've had great feedback from the market and our customers on bringing in new solutions into Canada," McCormick told Insurance Business.
Some of Aetna's offerings in Canada include access to primary care, referrals to secondary care, resources for mental and behavioural health, and centralization of health records, along with other services.
"Aetna is not just an insurance carrier. We provide financial solutions for our members, but we also provide logistical services in assisting members to find care, which is a global challenge, especially for members who are in countries where care is unique. We help them find the care, but we also manage that member's experience, which is very important, linking them to additional wellness tools to help them manage their care while they're abroad," explained McCormick. "We're rolling out a number of different solutions, like our vHealth solution, which is a virtual healthcare where you can link to a doctor through an app on your phone."
The global health solutions provider is primed for growth in Canada and while the initial strategy is to focus on expatriates and inpatriates, Aetna is looking at other options and opportunities to grow the business.
"We've already started talking about where we geographically want to expand out to in Canada and I think it's important to serve the customers where they are, specifically the adviser, broker, consultant community," said McCormick. "You want to be where they live and work, and where their customers are, so by all means, we're looking at potential expansion into the future in the west and eventually into the Quebec market."