Legal expense insurer opens in business hub as part of bold strategy | Insurance Business Canada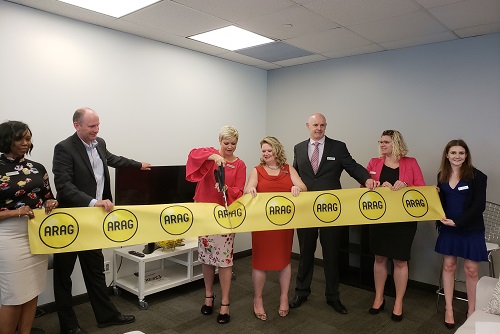 In the heart of downtown Toronto's financial district, on the 24th floor of the impressive Brookfield Place building, you'll find the doors of ARAG Group's Canadian outpost open for business. Fresh off a move from the outskirts of the city into the centrally-located offices, the legal expense insurance team isn't slowing down just because it's summer.
"It really does symbolize the footprint that we are carving out here with ARAG Canada in the Canadian marketplace. We didn't feel that the previous office space reflected what we were doing and what we planned to do in the future," said CEO Jo-Anne MacDonald, in conversation with Insurance Business during ARAG's open house on June 26 – only two and a half weeks after the team moved into the new space. "We wanted this to be a milestone for ARAG Canada and we wanted the whole thing to depict how we want to function in Canada."
Building out the legal insurance product is not without its challenges, especially since it's a relatively new offering in the marketplace that was introduced in Canada for the first time only eight years ago.
"With a new product, it takes a long time to get that awareness there and I don't think the awareness around that product is here yet," explained MacDonald. "There is a vast majority of brokers and consumers, and everyone else in between, that really doesn't know that this product exists. My mandate as the CEO for the Canadian operation is around awareness. The location is part of that, speaking at engagements is part of it, and being out in the marketplace is part of it."
Looking to the west is one of the milestones that ARAG plans to hit next. While a recent new addition to the team, Nancy Babeu, will be overseeing business development in Quebec and Eastern Canada, the team might soon have boots on the ground in one of the western provinces as well.
"I'm a big proponent that if we're doing business in regions, we have to have people in those regions," said MacDonald, adding that she was recently in Vancouver to determine whether that's a market where having an ARAG representative would be beneficial to leveraging the legal insurance awareness campaign. The CEO was also on the east coast recently, speaking with brokers about how they can implement the product and differentiate their own businesses.
That busy travel schedule is part of MacDonald's determination to solidify a growth strategy and put a framework in place for how ARAG plans to lead in the Canadian legal insurance marketplace.
"Not everyone goes on vacation in July and August," she said. "We have to ensure that this framework is put in place so that, in 2019, we can attract more talent as we grow and build over the next five, eight and 10 years."
No official opening is complete without a ribbon-cutting ceremony. Clients and business partners looked on as the team of seven sliced through an ARAG-printed ribbon and celebrated the bold direction of the company.
"We are looking forward to growing within the Canadian marketplace and growing in this space, and growing nationally," said MacDonald. "But we're also looking forward to providing access to justice for all Canadian citizens, no matter their financial standing, and that is a vital and important goal that we're striving for."
Related stories:
Calgary chemicals company on the hook for US$1.06 billion following legal dispute
Flourishing Canadian market brings growth and risks for SMEs