Ferry captain's actions contrary to insurance requirements: expert | Insurance Business - Page 3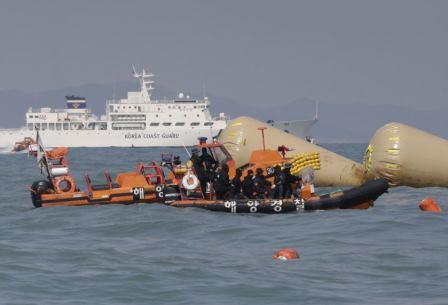 "I've seen a number of cases where procedures aren't being followed," says McLea. "And because of the you have a close-quarters situation or a near miss, and because of that you have an accident situation. In the world of marine insurance, where ships are moving around, it is an every-day occurrence."
Just this week, a tanker ship carrying chemical products ran aground in the St. Lawrence River outside of Grondines, Que. In this case, the 160-metre Halit Bey was freed by tug boats at high tide, as three investigators from the Transportation Safety Board were sent to the scene of the accident.
As for the South Korean ferry captain, Lee Joon-seok, he and two crew members have been arrested on suspicion of negligence and abandoning people in need, and prosecutors said that four other crew members have been detained. Senior prosecutor Ahn Sang-don said prosecutors would decide within 48 hours whether to seek arrest warrants for the four: two first mates, a second mate and a chief engineer.
Lee, 68, has said he waited to issue an evacuation order because the current was strong, the water was cold and passengers could have drifted away before help arrived. But maritime experts said he could have ordered passengers to the deck — where they would have had a greater chance of survival — without telling them to abandon ship.
Video showed that Lee was among the first people rescued. Some of his crew said he had been hurt, but a doctor who treated him said he had only light injuries.