The Griswolds' Christmas Vacation could have been saved | Insurance Business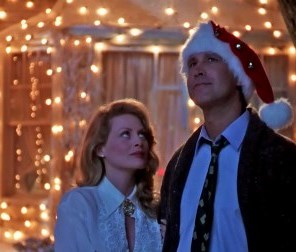 Perhaps no one has shed more blood, spent more money or sacrificed more home appliances in the pursuit of the perfect family Christmas as Clark W. Griswold, Jr. However, when the Griswold family patriarch's actions slide into a full-blown, four-alarm holiday emergency — complete with kidnapping and SWAT teams — Ellen, Audrey and Russ may be left relying on some critical insurance coverages to help sort out the mess.
With the goal of helping the Griswolds have the hap, hap, happiest Christmas ever, employees of Lockton Associates took to analyzing the risks in 1989's "National Lampoon's Christmas Vacation."
Here are some of their findings:
Transporting a "little full, lot of sap" Christmas tree
Clark's pride and joy, the Griswold family Christmas tree, was certainly a concern in transit—especially as he forgot his trusty saw.
Lockton underwriters, styling themselves elves for this white paper, believe an inland marine cargo policy would be just the thing.
"Clark should pay to have someone transport the tree, given its size," they write. "After all, the tree isn't going in the yard; it's going in the living room."
Uncle Lewis and his stogie-lighting slapstick
Unfortunately, the "most beautiful tree in the world" was not long for this Earth, as old Uncle Lewis decided to light up a cigar following Christmas Eve dinner.
The tree immediately erupted into flames (a result of Cousin Eddie's dog, Snots, drinking all the water) and the symbol of Christmas became a sad, charred pile of ornaments and branches. Some of the family presents were also damaged.
Property coverage, however, would pay out for their personal property, including the tree, gifts and ornaments.
Pollution from "that there" RV
Despite the illegality of his actions, simple-minded Cousin Eddie had no issue dumping some of his family's toxic sludge from the toilet into the sewers outside the Griswold home. (continued.)