Stop ignoring the earthquake risk in eastern Canada | Insurance Business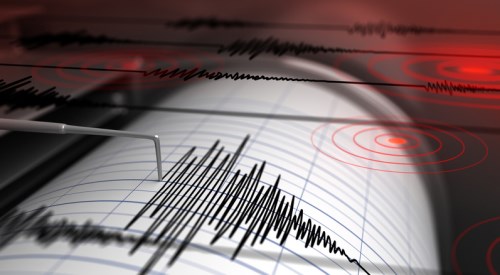 A huge 95.4% of potential earthquake damage is unprotected in Canada. It is commonly known that the west of the country, specifically British Columbia and Vancouver Island, is highly seismically exposed. What is not so well known is the relatively high earthquake hazard in eastern parts of the country.
There is a sizeable earthquake risk in spots all along the St Lawrence River Valley, coinciding with large areas of value accumulation like Montreal and Ottawa, according to Swiss Re's chief underwriter for Canada, Balz Grollimund.
"If you take into account all aspects that cause earthquake damage, we have very similar exposures in eastern and western Canada, especially in the zones where we have high value concentrations," said Grollimund. "That comparison is mainly driven by the fact that we have lower resilient buildings in eastern Canada. For instance, 90% of all residential buildings in Quebec were built before the 2005-seismic code updates and so there are a lot of structures that are built of unreinforced masonry which is really vulnerable towards earthquake damage."
Search and compare product listings for insurance against a Natural Disaster from specialty market providers here
Global reinsurer Swiss Re has conducted an earthquake study in which researchers took data from the 1663 Charlevoix earthquake, which happened to the north east of Quebec City, and inserted it into a modern earthquake model to estimate the impact of the 7.3 – 7.9 magnitude quake if it were to happen along the St Lawrence River Valley today.
Researchers considered all the exposed values such as buildings, building contents, business (including business interruption) as well as looking at the types of buildings and structures in order to calculate a total loss estimate of a Charlevoix earthquake repeat.
"We foresee on average roughly a $10 billion loss to residential properties, but there's also a possibility that the loss could be as high as $20 billion or be only a few billion. There's a big uncertainty range around this," commented Grollimund. "The total residential loss that we anticipate if an earthquake like the one in Charlevoix were to be repeated is around $10.6 billion. There's also a 25% chance that this loss will be larger than $40.4 billion.
"In terms of total economic loss, we estimate that it could be roughly $30 billion, but there's also a 25% probability that it could exceed $41 billion. If you compare that economic loss to the gross domestic product (GDP) of the province of Quebec, the impact is huge. At least $30 billion economic loss is equal to roughly 8% of Quebec's GDP, or 1.5% of Canada's GDP."
The question is, who will pick up that sizeable bill? Certainly not the insurance industry, said Grollimund.
He added: "Out of the $10.6 billion residential loss that we have estimated for the Charlevoix scenario effect in Quebec City, we calculate about half a billion or less than half a billion will be covered by insurance and more than $10 billion will be uncovered by insurance."
The earthquake insurance take-up rate in Quebec is very low compared to places with similar levels of risk throughout the world. It is also much lower than the take-up rate in western Canada, where the percentage of insurable residential property that has earthquake cover is about 65%.
"Insurance is a key driver of resilience," said Grollimund. "It helps local economies in the recovery process. People can't just rely on banks and the Government to cover the crisis."
Related stories:
IBC earthquake campaign returns to Ottawa
IBC tours Quebec to raise earthquake risk awareness