Gig workers' insurance – what's next? | Insurance Business Canada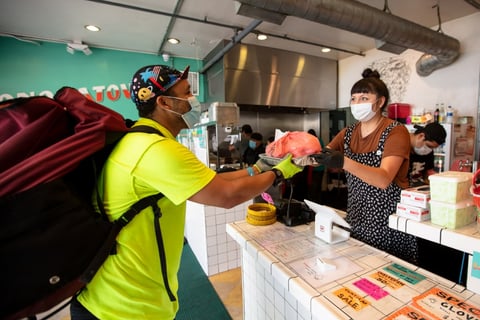 Self-employed and gig workers have become a pivotal part of the Canadian economy and the importance of providing protection to this demographic is rapidly increasing.
The pandemic forced many out of their traditional roles, giving them the time to explore niche freelancing opportunities and contract work, but have insurers been able to meet their needs?
Providing tailored insurance solutions is the name of the gig economy game, and Dejan Mirkovic, CEO and co-founder of Goose Insurance, sat down with Insurance Business and discussed bridging the gap within this underinsured Canadian segment.
"In Canada there are roughly 20 million people in the workforce," he said. "About two million identify themselves as gig workers and another three million identify as self-employed."
Yes, employment insurance is available, but, in many instances, it provides limited coverage if an accident occurs. Now, Goose is working with AIG to offer affordable income protection insurance for self-employed and gig workers who need it most.
Read more: AIG Canada teams up with new offering for gig economy workers
"This is something missing in the market and wasn't really accessible to gig workers or self-employed customers," Mirkovic explained.
Goose offers customers the option to download a self-service app and, within minutes, those who need protection can purchase and bind a policy.
The affordability factor plays a huge role for gig and self-employed workers. Budgeting for insurance on a yearly basis is much more difficult without a steady income, so having low prices is key for insurers hoping to protect these customers.
"We're seeing a substantial shift from traditional workers moving into gig jobs, but there are no benefits that come with those roles," he noted.
Insurers should keep in mind that the majority of this working class is looking for the same flexibility with coverage as they have with their jobs. An Uber or Lyft driver can set their hours based on their personal timetable, and they expect insurance to be just as personalized.
"There's a huge market opportunity, and the challenge the industry is facing is getting to these consumers and making insurance accessible to them," Mirkovic emphasised. "With our self-service app these individuals can buy insurance for themselves but, if they do need help, they can call in and speak to a licenced agent."
Accessibility and affordability fall hand in hand, but consumer education is vital as many gig workers have no idea what their insurance options are.
"We have a first level of discovery on our app where customers can look into insurance products they may never have heard about before, such as income protection," he said. "At a later point we're going to be introducing an education centre with videos and literature that will help understand the benefits of each product."
"Carriers need a better way to access consumers and essentially the solution is self-service," he added. "More and more people are using the internet to research and identify what they want, and we need to provide a good experience.
"We're also seeing a fundamental shift in distribution. Traditionally the broker channel was focused on nominal policies but by providing consumers with tools to learn and purchase insurance themselves, market share can be increased."
Read next: How brokers can survive the shift to the 'gig economy'
Mirkovic agreed that gig workers will continue to look for a self-insured approach and more players in the industry will be trying to keep up with this demand.
"We're going to see the industry catering to this segment and building products specifically to meet their needs," he said. "There's a learning curve happening right now - everyone is still learning the intricacies to building the right product."