Thinking outside the box to provide unique insurance solutions | Insurance Business Canada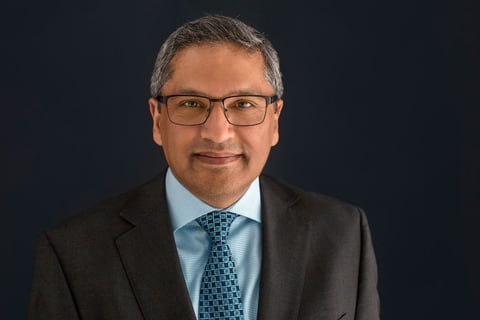 This article was produced in partnership with Echelon Insurance
Karen Surca of Insurance Business sat down with Robin Joshua, president of Echelon Insurance, to discuss the role of the specialist insurer in underserved markets and how individually addressing each risk is paramount.
It has been a challenging insurance climate for the last few years. While battling the economic fallout of a drawn-out pandemic has been a key challenge, there have been other factors that have hardened the market.
Chief among those factors are extreme weather events and inflationary pressures. Insurance providers have had to work diligently to come up with creative solutions to navigate these economic factors to continue to provide customers with affordable and comprehensive insurance coverage.
For Echelon Insurance, finding creative insurance solutions has been the driving force behind its business platform. Over the last few years, Echelon has asked the hard questions and determined early on what type of insurance provider it wanted to be and where it wanted to take its business.
Read next: Trucking industry needs insurers to 'dive dep' into operations
After deciding not to compete with large insurance companies that tend to write standard business, Echelon was able to focus on creating solutions for the underserved, specialty market. Echelon opted to compete in its own space.
Fully aware that most mainstream companies didn't want to be nonstandard auto insurers, Echelon took on these harder-to-place risks and later expanded into commercial lines. By actively choosing to find a niche in the oversaturated insurance market, Echelon has been able to expand in the specialty space over the years.
"We judge each risk on its individual merits. We don't categorize or generalize businesses based on individual codes or other industry classifications. Instead, we work collaboratively with our brokers to understand the unique nuances of each individual risk to determine a fair and appropriate rate," Robin Joshua (pictured), president of Echelon Insurance stated.
A unique underwriting approach
Echelon has "built a lot of underwriting expertise, rooted specifically in specialty markets. One example is long-haul trucking," Joshua described.
"There are only four or five insurance companies that actually offer that (long-haul trucking) business. We also service the hospitality sector, which several insurers have recently been shying away from. These businesses have really been struggling to find the coverage they need," Joshua added.
"We look at those markets exclusively as unique areas where we can differentiate ourselves from the rest of the industry. That's how we've built our business," Joshua commented.
Partnering closely with strategically aligned insurance brokers, Echelon has developed a unique underwriting strategy.
"We are looking for solutions for the underserved sector and trying to provide coverage at a fair price. We use some specific tools. Data analytics is one of those tools. We always root our decisions in data, working closely with our brokers and our Technical Risk Services team. We dig into the history of a business so we can understand what works and doesn't work. From there, we customize our programs to ensure they get the coverage they need based on their unique characteristics," Joshua commented.
This attention to detail and taking a deep dive into all the files that come across its desk has led Echelon to develop an impressive array of products geared for the underserved markets. Joshua pointed to the example of how Echelon Insurance's tailored and detailed approach benefits the long-haul trucking clients on its roster.
"Long-haul trucking is not one-size-fits-all. There are all kinds of trucking businesses. The domestic risk differs from the over-the-border risk. There is long haul trucking that hauls dangerous goods as opposed to hauling run-of-the-mill department store products," Joshua further explained.
"So, we have catered to those unique circumstances, building our products around them and we're seeing a lot of success with this approach."
Think outside the box by having in-house expertise
Joshua stressed the importance of implementing solutions for the often-overlooked complex problems that specialty insureds face.
The question becomes 'how can we best support these underserved markets with products that cover such unique insurance risks?'
Read next: Why specialization trumps generalization with commercial insurers
After taking the time to look for "outside the box" solutions, Echelon took its approach one step further and pulled some much-needed expertise in-house by creating an internal Technical Risk Services team.
Without in-house loss prevention expertise, "you can lose sight of things and don't have the ability to work as closely with a broker to make sure that loss prevention is being embedded across the entire customer journey. Bringing this expertise in-house helps us ensure they're receiving the loss prevention guidance they need; all our recommendations are being met and loss prevention is always top of mind," Joshua summarized.
Now legal, underwriting, and loss prevention are more "easily managed and more aligned," Joshua stated.
Challenges moving into a new year
Meeting insurance challenges is where Echelon Insurance excels. Responding to the needs of difficult markets head-on will continue to be the focus for the insurance provider moving into the new year ahead.
In addition to further tailoring customized insurance packages for the underserved segments of the insurance market, Joshua is also realistic about the continued broad challenges that need to be tackled as we look ahead to 2022.
"I see a couple of major challenges, which include the costs that are being driven into our industry primarily due to inflation. Another challenge is related to the number of natural disasters that have occurred over the last 10 years or so. These two things generate costs, and it costs the system," Joshua reflected.
"At the end of the day, we believe everyone deserves insurance coverage at a fair price. It's up to us in the industry to find innovative ways to ensure Canadians get the coverage they need moving forward despite these challenges," Joshua concluded.
As President of Echelon Insurance, Robin brings with him over 35 years of experience in the insurance industry across a variety of areas including Risk Management, Underwriting, and Business Development.