Underwriting Expertise
Carrier performance: 8.20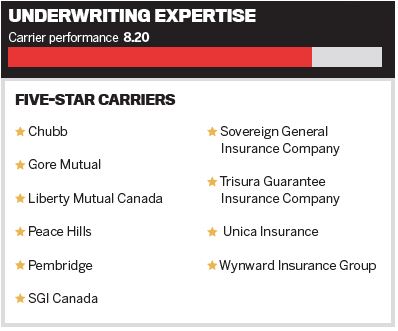 Despite their high marks, brokers expressed some wariness about the increasing role technology is playing in underwriting at the expense of human expertise
Underwriting expertise appears to be less of a priority for brokers this year than in years past. Only 49% of brokers named underwriting expertise as a top-three quality they look for in a carrier in 2019, compared to 64% in 2018. Yet in terms of performance, carriers' average score in this category increased markedly over 2018, climbing from 7.44 last year to 8.20 this year.
Many brokers were emphatic about their appreciation for their carriers' underwriters. One broker who gave their carrier a perfect 10 in this category praised them for having the "best underwriters in the industry." Another broker commended their carrier's "very strong depth in both property & casualty and automobile underwriting."
Yet despite their high marks, brokers expressed some wariness about the increasing role technology is playing in underwriting at the expense of human expertise. One broker noted that their carrier "relies too heavily on AI and credit score – underwriters no longer have the authority to properly underwrite a risk." Another broker implored their carrier to "give the underwriters some actual authority."
Brokers also had some advice for underwriters about how to enhance their relationship with brokers. "Junior underwriters need to refer to a senior when they don't know an answer and not just say no when they do write the product," one broker said.