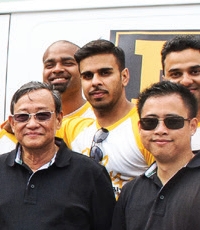 #4 MY INSURANCE BROKER
#4 MY INSURANCE BROKER
RISHI JAITLEY, DIRECTOR OF SALES
FAST FACTS
Brokers:
52
Specialties:
Property and casualty, primarily for homeowners, with growth of approximately 50% in commercial lines since 2013. Also services clients' life, disability and other financial needs through life line product offerings
What sets your firm apart from others?
My Insurance Broker is grounded on the premise that we simply try to do the simple things better. Whether it be answering a question, transferring a call or touching base with insureds on renewal, it's the quality of effort and quality of service that help to ensure an excellent customer experience.
Name five factors about your business that have helped you succeed:
Strong core values: MIB prides itself on the being built on the firm foundation of honesty, trust, commitment, care and loyalty.
Repetition of great service: No matter the time of day or the gravity of the circumstance, the customer must receive our best in each and every interaction.
Importance of creating a family environment in the workplace: It is one of our main functions and our founders' visions that our brokers and staff find their office to be an extension of their home.
Being attentive: Each day, within each moment of conversation, our customers tell us the things we do well and our areas for improvement. By simply tuning in to some of these subtle suggestions, we can improve our customer experience and inevitably our overall growth.
Instituting change: It is important to recognize that neither insurance as a product, nor our clients' needs – our number one priority – are static. It is vital for any business to assess the needs and institute the availability of resources in order to evolve with our dynamic industry.
What's the most important thing brokers can do to develop their business?
Know your customer. With each new referral, quote, application and policy comes a new set of questions, needs, requirements and solutions. It is vital to acknowledge, treat and assess their needs accordingly.
How does your firm retain top talent?
We like to believe that we don't retain our associates' talent, but rather encourage [them] to thrive and perform at their best [by] ensuring that the workplace is an effective, efficient and evolved placed to be.
What's next for your brokerage?
My Insurance Broker is focused on growth in both personal and commercial lines, and reaching more of our clients in the areas in which they work, live and play. We will be launching our newest location in the summer of 2015, with expectations of being across all major cities within southern Ontario by 2017. MIB also hopes to be a nationally recognized brand, representing other provinces throughout our great landscape.
Company

Information
MY INSURANCE BROKER

Richmond Hill, Ont.