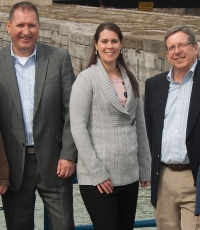 #9 C.M. STEELE INSURANCE BROKERS
#9 C.M. STEELE INSURANCE BROKERS
WILLIAM C. STEELE, PRESIDENT
FAST FACTS
Brokers:
8
Specialties:
Personal lines with a small commercial book of business, as well as a specialized seasonal package
What sets your firm apart from others?
I believe our family's long standing in the community and our volunteer work sets us apart from our competition. … C.M. Steele Insurance Brokers has supported many organizations financially over the years. We are very proud of our achievements within the community, and this has helped us in our business as well.
Name five factors about your business that have helped you succeed:
Personal service to our clients
Answering phone calls right away
Giving good advice in preparing our clients' insurance needs
Keeping up with technology
Supporting our community
What kinds of coverage have contributed most to your firm's success?
Personal lines is our forte; we have very good insurers who offer the products our clients look for at reasonable prices. Seasonal dwelling insurance also has been popular with our clients, and we have seen a tremendous growth in this area due to our location on Lake Erie. Special vehicle insurance also has been good to our office, as we sell a large volume of antique and classic vehicle, motorcycle, vacation trailer and boat insurance.
What's the most important thing brokers can do to develop their business?
Be seen in the community, whether it is at a social function, a fundraiser or helping local charities – people like to know the companies they deal with are involved in their community. Word of mouth is the best salesman – treat your clients with respect and give them great service, and they will tell their family and friends, and your business will grow.
How does your firm retain top talent?
We hire locally, and having five generations of the Steele family associated with the firm helps. We keep our staff up to date on all our company products, as well as continuing education. But treating staff professionally and the way we would want to be treated has been very good to us.
What's next for your brokerage?
We recently opened an office in Stoney Creek with Eric Pienkosz, whom I met during an insurance licensing course. Eric just completed his CIP, and we know he will carry on the C.M. Steele tradition of great service to our clients. We are always on the lookout for opportunities that will help our brokerage grow, whether through special products or acquisitions. C.M. Steele Insurance will continue to look at our past, which enabled us to get to where we can look toward a successful future with our customers and partners.
Company

Information
C.M. STEELE INSURANCE BROKERS

Port Colborne, Ont.