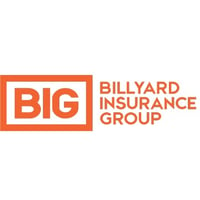 2. BILLYARD INSURANCE GROUP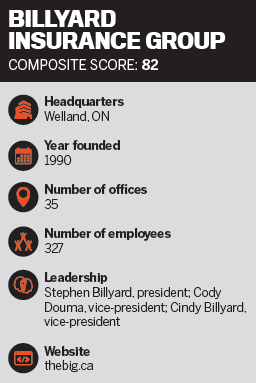 What made 2019 a banner year for Billyard Insurance Group?
Stephen Billyard, president: We scaled the brokerage significantly, hiring 177 new employees and opening 10 new commercial storefront locations. To drive growth at this rate we expanded our leadership teams, technology platforms, training, recruiting and support systems to effectively handle and manage these critical growth elements at volume.
What did you do differently in 2019 than in other years?
SB: We have increased our emphasis on expanded product lines to balance our book of business and offer a holistic experience for our clients. We are focused on growing our commercial, life and travel insurance divisions, making investments in training, recruiting and technology to improve our capabilities in these areas.
How do you maintain a competitive edge in the market?
SB: We maintain our competitive edge by recruiting top broker talent in Ontario and providing them with the training, technology and tools they need to do their jobs effectively. BIG is a people-focused company – we take care of our brokers, and our brokers take care of their customers.
What's the biggest challenge facing brokers in 2020?
SB: Gaps in broker technology remain our biggest challenge in 2020. The day-to-day job of a sales or service insurance broker is very complicated; they are required to learn and juggle multiple software packages and company portals that don't integrate effectively with one another, leaving the broker to manage manual tasks and complicated workflows. This makes it challenging to provide our customers with the prompt and accurate service levels they expect.
What can your wholesale or insurer partners do to help you write more business in 2020?
SB: Keep improving broker-facing technology. Many of our carriers made great technological progress in 2019 – carriers deployed back-end platforms like Guidewire to improve policy insurance and broker connectivity; some launched very userfriendly broker-facing quote-and-bind technology for small business commercial; others expanded their appetites for customer-facing click, quote and bind in the commercial space. These improvements help us operate more efficiently and serve our customers better.
Company

Information
Billyard Insurance Group

38 East Main Street, Welland L3B3W3