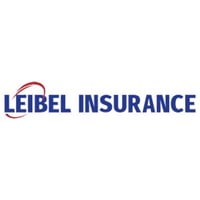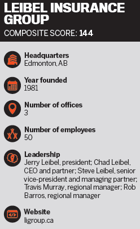 9. (tie) LEIBEL INSURANCE GROUP
What are Leibel Insurance Group's specializations?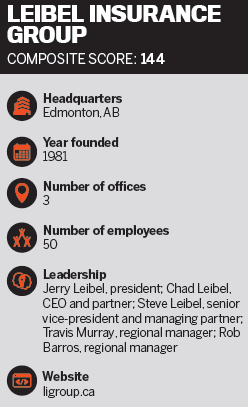 Chad Leibel, CEO: While able to handle all types of business, we have developed a specialty in several areas.
First, we developed an exclusive program for the transportation industry, BigRig Insurance.ca, and are often sought out by local associations to conduct learning sessions for their members.'
Second, with multiple group programs in place that include some of the largest unions in Canada, clients know that when they connect with our team, they get more than just a group rate; they get family-based service.
Finally, in transforming our personal lines team from being price-focused to value- and service-based, we have seen an increase not only in sales, but in employee engagement as client interactions progress from order-taking to full advice-based conversations.
What accomplishment are you most proud of from 2019?
CL: Our first-place finish for Top Insurance Workplace (Under 100 Employees) in Canada. The reason this is so special for us is that we wanted to hire the best in the industry and could not be more proud of our team. They are fully engaged, often reaching out to each other to provide support if anyone is falling behind. We've been able to establish a good work-life balance with 40% of our team working from home. Despite not all being in the same building or province, our team chemistry has never been stronger, producing a positive environment and culture. Being named a Top Brokerage has only strengthened our appreciation for each other and reaching this milestone together.
What's the biggest challenge facing brokers in 2020?
CL: I'd be remiss not to acknowledge the hard market. That, in and of itself, is its own challenge, but with rate increases and market segmentation, the biggest challenge we see for brokers in 2020 is public awareness and helping them understand the 'why.'
We are already starting to see an influx of calls related to premium increases, carriers not renewing or markets segmenting themselves out, making it harder to find the appropriate coverage for consumers. One of our missions for 2020 is to help our customers understand the rationale behind these industry challenges.


From left: Rob Barros, Chad Leibel, Jerry Leibel, Steve Leibel, Travis Murray