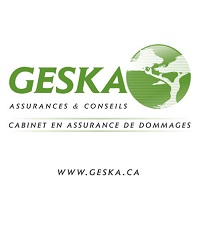 GESKA ASSURANCES & CONSEILS
GESKA ASSURANCES & CONSEILS
Location: Brossard, Que.
Head: Gerald Charest
Specialties: Commercial lines
Client protection is the watchword at Geska. Working collaboratively, the small team schedules daily chats about how best to meet this mandate in the present, as well as mitigate any future risk. Throw in an adamant belief that respect is the key to all client relations, and you have a recipe for solidified partnerships that appear to be growing over time.
Geska believes their recipe of commitment, know-how, integrity and respect allows them to form dynamic relationships with clients and offer innovative solutions to new customers. They've also hitched a ride on the tech bandwagon through the development of their own digital tools. Given all that, it's no surprise that their client satisfaction rate is an impressive 93%.
Company

Information
Geska Assurances & Conseils

9935, Catania Avenue Suite 350 Brossard QC J4Z 3V4