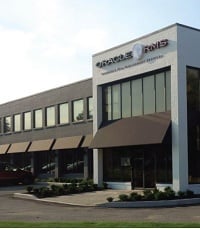 ORACLE RMS INSURANCE RISK MANAGEMENT SERVICES
ORACLE RMS INSURANCE RISK MANAGEMENT SERVICES
Location: Concord, Ont.
Heads: Michael Di Nardo and John Ferraro
Specialties: Construction, manufacturing, surety, transportation, personal lines
Sometimes striving to be better can lead to being different. Such is the case with Oracle RMS, where a determination to constantly improve and refine their processes has produced something different. Operating out of a retrofitted warehouse complete with state-of-the-art modern furnishings, this young team expects their members to have a near encyclopedic knowledge of the industry.
Under the credo of "never lead behind the desk," management has implemented and encouraged a style that may appear unique to some – they expect results from themselves as well as from their employees. Applying their expectations universally across the office has allowed Oracle RMS to quadruple in size in less than two years and build a portfolio of clients that would make any decades-old operation green with envy.
Company

Information
Oracle RMS Insurance Risk Management Services

100 Drumlin Circle, Suite 101 Concord, ON L4K 3E5