9 ORACLE RMS
Headquarters:
Concord, ON
Year founded:
2011
Total number of offices:
1
Number of employees:
53
Head leadership:
John Ferraro and Michael Di Nardo, co-founders
Websites:
www.oraclerms.com ; www.insuremeonline.ca
Tell us about Oracle RMS:
Oracle RMS is a full-service insurance brokerage, and we specialize in small- to mid-sized commercial business, surety, personal home and auto and financial services. Having over 40 years of combined experience, our founding partners Michael Di Nardo and John Ferraro wanted to establish a brokerage that delivered a higher standard of professional advice and service. We opened our doors in 2011 with only four employees, and in a short period of time, we have grown our brokerage to over 50 employees.
What makes your brokerage unique?
We are like the Google of insurance; we are a young and dynamic team that likes to work hard but play harder. We have a unique retrofitted warehouse office that is very modern, and our open concept promotes efficiency and fun at the same time.
In what areas of business have you experienced recent growth?
We recently launched our online digital personal lines division – insuremeonline.ca – that has written over $1.5m within the first year. We also started a surety division, which has almost hit the $1m mark in under two years.
What has been a proud accomplishment for your brokerage and why?
Recently, we celebrated our fifth anniversary, going from four employees when we started to 53 today. Our original office in 2011 was just 1500sq ft, which we outgrew very quickly. In 2014, we purchased an old 16,000 sq ft warehouse and retrofitted it to a modern, open concept, Google-like facility. Last April, we were selected by IBC as one of Canada's top 30 brokerages and then, in October, our co-founder Michael Di Nardo was ranked as Canada's No.1 Elite Broker by IBC.
What challenges did your brokerage experience last year and how did your team overcome them?
Sometimes with growth comes the challenge of keeping up and not sacrificing our service standards. We tried to stay on top of this and did a good job doing so, mainly due to the help of our staff, who are always willing to go above and beyond to help their fellow staff members and clients. Finding the right technology and CRMs to compliment what we are trying to accomplish to better the overall experience for the client.
What are your brokerage's plans for 2017?
For 2017, our plan is to grow by 25%. We are focused on our continued growth and the improvement of our new departments, as well as possibly opening an additional office this year.
What five factors have contributed to your brokerage's success?
Technology
Great office environment
Excellent staff
Creating flexibility and encouraging innovation
Great relationships with our markets and clients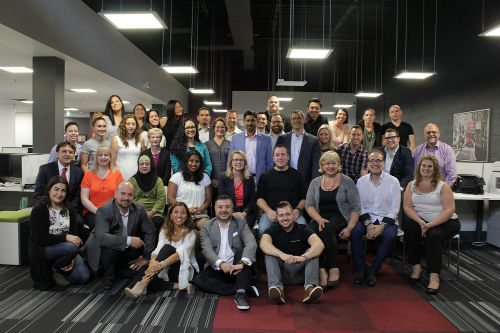 Company

Information
Oracle RMS

100 Drumlin Circle, Suite 101, Concord, Ontario Canada, L4K 3E5