Broker on transitioning from the Australian to NZ insurance market | Insurance Business New Zealand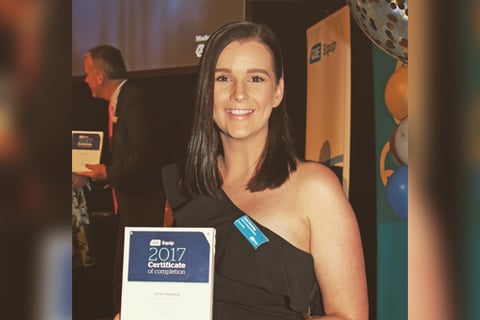 Transitioning from one insurance product from another could be difficult, but moving from one market to another could be even more challenging – yet that is exactly what Bay Insurance broker Lydia Flemming has done.
Flemming (pictured) started her insurance career in Australia the same way so many other insurance professionals started theirs – she fell into it. However, she realised early on in her career that she wanted to pursue insurance even further.
She worked at well-known insurance firms in Australia, starting out as a sales assistant/underwriter for personal lines at Vero Insurance, then a CTP specialist support officer at Suncorp Group, an assistant account executive at OAMPS Insurance Brokers, and finally spending five years at Citycover Insurance Brokers & Financial Services before she moved to New Zealand – with the intention to stay in the insurance industry.
"Insurance is a fantastic industry to work in and I really wish I knew about it in high school. It would have caused a lot less stress! The best thing about this industry would most definitely be the challenges each day brings. Every day is different; you are dealing with different clients and industries, getting involved in complex claims situations, and, all in all, working with great people," Flemming explained.
Speaking about her experience before moving to New Zealand, she said: "I started at Citycover Insurance Brokers in Australia as an assistant account executive with ambitions of becoming a broker. This was both exciting and terrifying as the thought of having to network and meet new people was completely outside of my comfort zone and put me in an absolute panic.
"I knew from the beginning networking and meeting new people was going to be quite a hurdle; however, I wanted to overcome this as I saw this industry as a career choice I couldn't wait to be a part of!"
After years of mentorship and climbing the career ladder, Flemming moved to New Zealand – where she became a broker at Bay Insurance.
"I am currently a broker looking after a vast range of clients from your mums and dads through to your SMEs. Along with broking, I also work alongside a great team and manage the workflows in our business which offers a great mix," she said.
She added that she also had a broad range of clients in Australia, but transitioning from the Australian market to the NZ market sure has some challenges.
"Moving over from Australia has many challenges; however, the biggest has been technology and understanding the differences in underwriting risks in NZ," she explained. "While NZ is quite behind in technology, which impacts on the ability to turn over work for clients, it has also been great because it has given me a chance to get to know the underwriters and build relationships a lot quicker than if I had access to better technology.
"These relationships have also helped me understand New Zealand risks and what goes into underwriting these a lot quicker. This being said, it would be great to see an improvement in technology."
She added: "Apart from direct insurers offering more products and services which target our clients, people are becoming more educated on insurance or taking advice from forums/social media platforms.
"We as an industry really need to be more than a mailbox. We need to find ways to better ourselves, continue with professional and self-development, and find ways to really add value to our clients. If we don't add value to our clients, all we are doing is competing on price and if we compete on price, we will lose a client on price."