EQC-funded research looks to strengthen high-risk buildings against quakes | Insurance Business New Zealand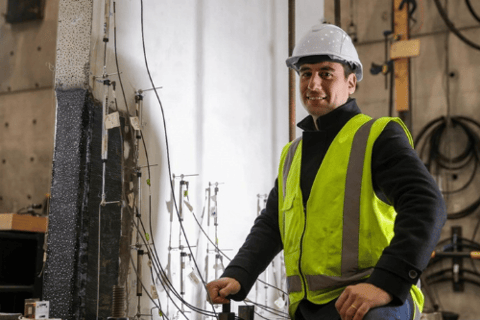 Researchers at the University of Auckland are looking at efficient and cost-effective ways to strengthen walls of buildings at higher risk of earthquake damage.
The team is composed of lead researcher Enrique del Rey Castillo (pictured above), Victor Li and Rick Henry, and is funded by the Earthquake Commission (EQC).
According to EQC, more than 100 multi-storey buildings in Wellington's central business district have been identified as below modern quake code standards, making the research an urgent matter. The buildings' heightened risk from earthquakes has also led to higher insurance costs on top of already-expensive strengthening work.
Del Rey Castillo said that reinforced concrete buildings built prior to 1982 are considered at particular risk, as their thin and slender walls are more likely to buckle and collapse in an earthquake.
"Technically it's called axial failure," Del Rey Castillo said. "It can still happen in a newer building, as we saw in Christchurch's Grand Chancellor Hotel, but pre-1982 design methods mean the risk is higher in those older buildings. And right now there is no guidance on how they should be strengthened."
With many older commercial buildings being converted into apartments, EQC research manager Natalie Balfour said it's vital to ensure that people live in homes that meet modern earthquake standards.
"EQC decided to fund this research because it will deliver practical guidance on how at-risk walls in older buildings can be strengthened cost-effectively. It will also establish a consistent way of doing these fixes across New Zealand," Balfour said.
The researchers are testing whether wrapping danger-spots on at-risk walls in carbon fibre can bring the walls up to modern earthquake performance standards.
"We've already tested 56 different combinations of concrete, steel and carbon fibre to see when and how they break," Del Rey Castillo said. "This gave us the data we needed to model how to strengthen a particular wall. We are now testing these ideas in the lab with four-metre-high walls loaded with the weight of several storeys."
Once the researchers complete the testing and modelling processes, they will draft guidelines and equations to guide other engineers in figuring out the most effective and cost-effective fix for their particular problem wall.