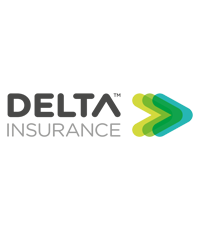 Delta Insurance
A diverse and inclusive team, excellent professional training and development opportunities, and great health and wellbeing benefits – these are just some of the reasons that make Delta Insurance a Top Insurance Workplace for 2020.
Delta is a diverse team of 24 people comprising of an equal number of men and women, with ages ranging from 20 to 60 and from different cultural backgrounds. Two of five managerial roles and four of seven senior roles held by women. Since the insurer began in 2014, only two people have left the company.
Delta works within the cloud and runs a paperless office, enabling its staff to work anywhere. This flexibility is ideal as we have four team members who are home-based and others have the choice to work from home or elsewhere as needed. It also its own bespoke, cloud-based underwriting and claims management system that has provided its staff huge efficiency in conducting their everyday job, whether that be underwriting, claims, administration or management. Considerable money have also been invested in developing research white papers to assist both our team and our broker partners and customers to better understand and mitigate their risk.
Delta supports the professional training and development of its people through:
a 12-month strategic development programme, implemented in partnership with The Ice Base, for high-performing junior staff that focuses on developing the transferable personable skills;
one-on-one coaching sessions with Hello Monday for key senior management to help them develop leadership competencies;
regular in-house technical training, with all staff required to re-sit their Lloyd's of London compliance training every year; and
a Delta webinar series will also be run throughout 2020.
Delta staff are also encouraged to attend relevant industry professional development events hosted by major industry associations.
Students hoping to build a career in insurance can join Delta's Internship Program, which provides graduates practical insight into the insurance industry by working with clients and attending social networking and learning development events, with costs met by Delta. There's also Delta's Graduate Underwriting Programme that provides formal training with underwriters, management, admin and claims teams, plus a buddy system with senior underwriters and their own renewal book to manage.
Delta ensures salaries are reviewed annually, are appropriate in the market, and recognise the contribution made by the employee. The insurer also has a short-term incentive programme which provides an annual bonus for staff who perform, as well as a long-term Incentive programme which rewards key talents for demonstrating long term commitment to Delta. More significant achievements are often be celebrated with a team lunch or morning tea.
And because health and wellbeing is a priority at Delta, the insurer provides all its staff with private health cover. It also have a number of initiatives in place, including company-paid gym memberships, regular team activities that are focused on health and fitness, and health and safety training.