Insurer's test reveals protection gaps in equestrian helmet market | Insurance Business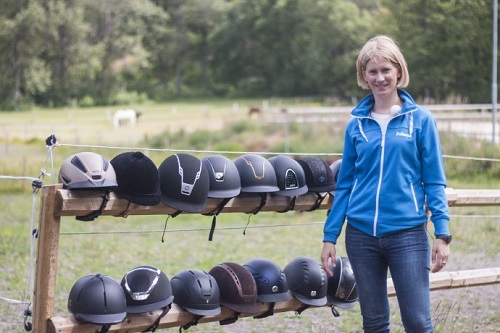 If results of an independent test conducted by Swedish insurance company Folksam are anything to go by, then it looks like only three equestrian helmets in Sweden can save a rider from a concussion.
"Approximately half a million Swedes ride a horse regularly," said Helena Stigson PhD (pictured), associate professor at the Folksam research team, in the insurer's report. "For Folksam it is important that our customers who are preforming this activity are well protected if an accident should occur."
According to Stigson, the aim of Folksam's test is twofold: helping consumers in their choice and at the same time influencing equestrian helmet manufacturers to design safer products. She added that helmet makers should take increased responsibility in improving protection.
Evaluating 15 helmets available in the Swedish market, Folksam gave its approval to only three of them. Significantly outdoing the others was "best in test" Back on Track EQ3 Lynx MIPS (multi-directional impact protection system), while Back on Track EQ3 MIPS and Charles Owen Ayr8 Leather Look were named "good choice" helmets.
"The current European certification test standard do not cover the helmets' capacity to reduce the rotational acceleration, i.e., when the head is exposed to rotation due to the impact," read Folksam's report. "The present study provides evidence of the relevance of including rotational acceleration in consumer tests and legal requirements."
Folksam conducted four physical tests – shock absorption with straight perpendicular impact, as well as three oblique impact tests. The insurer explained that the impact to the head will be oblique in cases involving a fall from a horse or horse kick.
"The intention was to simulate this in the tests since it is known that angular acceleration is the dominating cause of brain injuries," it said, adding that helmets should prevent not only life-threatening injuries but preferably brain injuries as well which result in long-term consequences.
Folksam stated: "A conventional helmet that meets current standards does not prevent an equestrian from getting a concussion in case of a head impact. Helmets need to absorb energy more effectively."
In addition, it turns out that higher price does not necessarily relate to better protection. Folksam cited one of the most expensive helmets as being among the worst performing ones in its assessment.
Related stories:
Castel Bloodstock not holding its horses, bags new binder
KBIS executive returns as business development director