Ecclesiastical on why corporations need to be more transparent around charitable giving | Insurance Business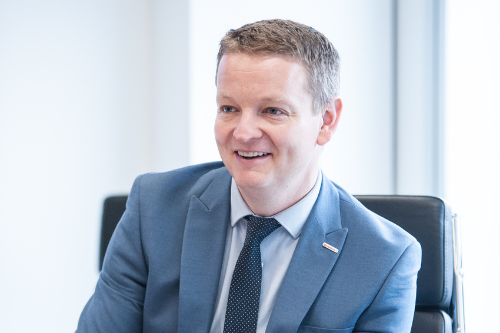 It's that time of year again. Ecclesiastical Insurance Group has launched the third year of its annual Movement for Good awards and the timing could not be better, according to Chris Pitt (pictured), the insurer's head of responsible business. The chaos of the COVID crisis has left charities under more pressure than ever, as they are facing the dual blow of experiencing a substantial drop in fundraising income alongside increased demand for their services.
Read more: Ecclesiastical opens 2021 edition of Movement for Good
This pressure has accentuated the role that charitable giving plays in maintaining the ecosystem of local communities, and Pitt noted this is something that the first wave of this initiative highlights particularly well. It will see 500 eligible charities each receive £1,000, which is Ecclesiastical's way of recognising that it is the people living and working in local communities that know which charities are doing the best work.
"It works so well for us to flip this on its head and say, 'you tell us, you're the best person to decide what charity needs support.' And therefore, we're more confident that it's going to some really great places. The second half is going to be larger grants, and a more-application based approach, because, like a lot of funders, we are always thinking hard about how we can make the biggest difference with donations. There's a great responsibility to do that as effectively as we possibly can."
As somebody passionate about the role that corporations play in effective social change, Pitt was delighted to see Ecclesiastical recognised as the fourth biggest corporate giver to charity by the Directory of Social Change. The directory plays an important role in highlighting the situation around charitable giving, he said, which is particularly relevant as, due to a change in the Companies Act, corporations now don't need to report on their charitable giving specifically. Annual reports nowadays discuss community investments and charitable support but it's not necessarily clear how much this amounts to, whether it's going where it needs to or how it's being managed.
"We're actually working with the directory in some other respects as well," he said. "We are hosting some fundraising webinars for charities which is a good example of us recognising that we are a huge giver and we have got a different kind of business model - but also that we actually do need to find more ways to support charities.
"By supporting them with fundraising advice, we can help them to hopefully raise even more, and so we're enabling charities to support themselves… We'll always be a big giver but [finding] more ways to give them the skills to raise more funds, is arguably a more sustainable way to support charities for the future."
Looking to the future of the charity sector, Pitt said, the outlook looks positive and he has great hope for the sector because it generally tends to be very innovative. Charities have faced huge challenges in continuing to carry out their core mission of helping specific groups of people in the face of dramatically different operational environments. Many of these organisations have had to stop and think, and then reinvent how they do what they do, and he'd like to see those lessons taken up by businesses across other sectors.
Read more: Moving away from corporate social responsibility
In terms of corporations supporting charities, his concern is whether the surge of goodwill last year, with big charitable giving campaigns rolled out and many corporates giving large donations, was just a one-off occasion. The reality is that charities don't need one-off donations, he said, they need sustained support and they need to have some sense of financial stability. It is much the same as with any other business – less about the performance of this quarter or even this year, but rather about the longer-term view.
This focus on longevity underpins all the work that Ecclesiastical does within the charitable space and Pitt emphasised how the Movement for Good awards have gone from strength to strength since they started. Last year 253,000 people nominated their favourite charities, he said, and this year the first day of the campaign saw around 25,000 nominations - so that success looks set to be repeated, if not surpassed.
The nomination process for the first swathe of awards closes on June 13, so there's still plenty of time for anybody with a cause close to their heart to nominate their chosen charity.
"And I think my key message for people considering getting involved [with charitable initiatives] is that there are benefits on both sides," Pitt said. "This isn't a one-way thing, everyone gets something out of it and the more you invest in it, the more benefits you see on both sides. And I think for corporates, it's really about breaking down that binary one-way relationship so it moves away from just putting some more out there aimed at a group of individuals and towards building more of a long-lasting relationship."