Russell Scanlan picks 2020 charity | Insurance Business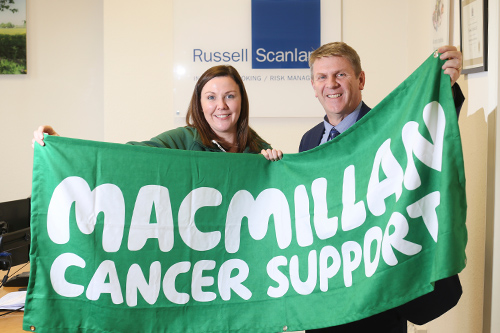 Macmillan Cancer Support has been selected as Russell Scanlan's charity of the year for 2020.
The charity committee of the Nottingham-based independent insurance broker will be spearheading a variety of fundraising initiatives, including a 26-mile hike across the Peak District and the company's annual Charity Quiz, to reach or even exceed the £5,000 target.
According to Russell Scanlan, it costs £29 per hour for a Macmillan Cancer Support nurse.
Commenting on the pick, the charity's fundraising manager for the East Midlands Katherine Booth said: "We are delighted that Russell Scanlan has chosen Macmillan Cancer Support as its charity of the year. In Nottingham alone, more than 4,000 people are diagnosed with cancer every year, but Macmillan is there to support people, helping them to live as full a life as possible.
"The money Russell Scanlan raises will help fund Macmillan nurses, could pay for a Macmillan grant that helps a person living with cancer heat their home when they really need to, or could support cancer information nurse specialists to run the Macmillan support line phone service providing a wide range of clinical information and help with medical jargon."
Lifting the lid on the decision, managing director Bryan Banbury shared what drew them to the charity.
"Raising money for good causes is something we care very much about at Russell Scanlan," stated the MD. "This year, we chose Macmillan Cancer Support as it is a charity which is very close to our hearts. Many of us have been affected by the disease in some way, either first-hand or through a loved one, and then last year a senior member of our team was diagnosed with cancer.
"We all decided that Macmillan Cancer Support would be a very important charity for us to fundraise for this year, and the whole team is committed to raising as much money as possible for this worthwhile cause."