SEIB Insurance Brokers donates to Little Havens Hospice | Insurance Business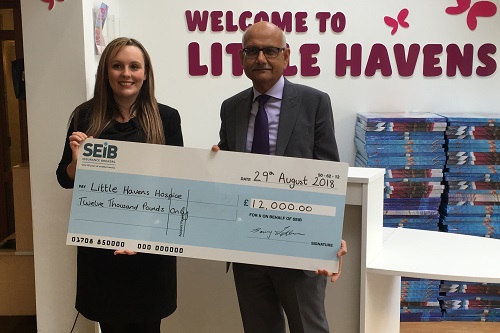 Little Havens Hospice has received a £12,000 donation from SEIB Insurance Brokers, thanks to the latter's employees who get to select a charity to support every six months.
"Each week Little Havens must raise over £46,000 to provide specialist care and support to patients and their families," noted Lydia Plews (pictured, left), business development officer for Little Havens Hospice.
"This is only possible thanks to people and organisations in the community who fundraise for us and help us to continue caring and 'Making every day count' for children and families across Essex for as long as we're needed; so again I'd like to say thank you to SEIB from all of us."
In this week's announcement, the Ecclesiastical-owned broker cited its staff's various fundraising activities which paved the way for the donation.
"We love to support local charities that make a real difference in our community and Little Havens does exactly that," said SEIB financial director Bipin Thaker (pictured, right). "The level of care that they provide the children is outstanding and it's a real honour for us to be able to help them continue to do this."
For 2019, SEIB Insurance Brokers has allotted £100,000 for the third sector.