SEIB Insurance Brokers opens nominations for 2020 Charity Awards | Insurance Business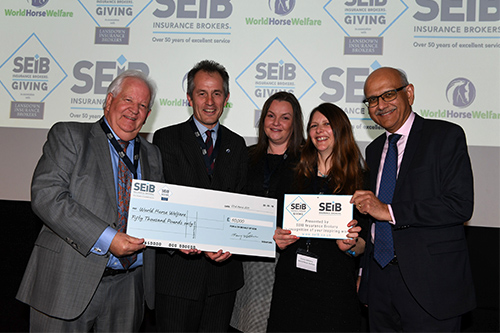 Image credit: Trevor Meeks
Next year's SEIB Insurance Brokers Charity Awards, which will take place on March 20 in London, will see seven charities receive a combined £50,000.
One winning charity will be awarded £25,000 while the remainder will be split among the six runners-up during the SEIB Charity Awards luncheon at the Leonardo Royal London City Hotel. Nominations will close on November 28, 2019.
According to the Ecclesiastical-owned broker, eligible charities will need to be UK-registered and the projects that will benefit from the grants will also have to be based in the country. Previous winners, meanwhile, will not qualify.
In 2019 the top beneficiary was World Horse Welfare, which used the grant to purchase a tractor and trailer for the charity's horse rescue and rehabilitation centre Penny Farm as well as a drone with a high-resolution camera to help locate horses in hard-to-reach places.
"The drone has been invaluable recently in Snowdonia National Park," noted World Horse Welfare field officer Rachel Andrews. "There were significant concerns regarding a group of up to 30 wild ponies and as the terrain was extremely difficult underfoot, the drone enabled us to locate these ponies so that we could access them from the nearest track.
"This meant reduced stress for the ponies and it means that we can continue to monitor them over the winter when they will be even more difficult to access."
Commenting on the event, SEIB chief executive Barry Fehler (pictured, left) stated: "At SEIB we firmly believe in contributing to the common good. I was very proud when we held our first charity awards in 2018, and I am delighted that we are able to be once again granting money to the causes that really matter to our loyal customers.
"The feedback we have had from recipients of our previous grants is humbling."