#EmbraceEquity – what does IWD mean to and for the insurance profession? | Insurance Business UK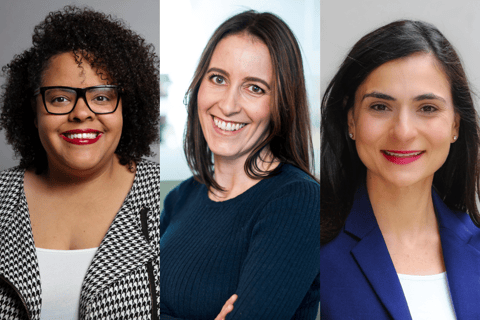 The theme of International Women's Day (IWD) 2023 is #EmbraceEquity but what does this hashtag actually mean to the women who serve the insurance market? In acknowledgement of the day, Insurance Business reached out to professionals operating across the insurance ecosystem to get their take on what embracing equity looks like when done right – and to find out how their respective firms are celebrating IWD.
#EmbraceEquity – what does it mean to the insurance market?
For Shannan Fort (pictured left), partner in financial lines at McGill and Partners, #EmbraceEquity means active engagement in order to develop equitable solutions. People often confuse equality for equity, she said, but they aren't the same. You can't be in an equitable position if the person you're competing against had a smooth path and a 200-year head start, even if there is equality in the law. To embrace equity is to actively engage with the disenfranchised to allow advancement in a meaningful, generation-changing way.
"Having an equitable workplace is so important," added Claire Fox (pictured centre), partner in large & complex injury at HF. "If people are able to thrive because they are in an environment that supports them, regardless of their starting point, this can only be beneficial for everyone. Ultimately, it's about seeing people as people first and foremost.
"From a woman's perspective, when I see statistics of women leaving the workforce after having children or because of menopause it really brings home how much things need to change to support those women who want to have a fulfilling career. Having equity and being in an inclusive workplace can only help that. I am a mum of two young girls and my hope is that the more we address the inequity, the better chance they have of thriving without bias. Embracing Equity means inclusivity and, ultimately, equality."
Embracing equity is more than just accepting and expecting equality, according to Sarah Murrow (pictured right), CEO of Allianz Trade UK & Ireland. It means willingly and enthusiastically fostering a meritocratic environment where anyone, regardless of gender, can succeed and amplifies the ability of people to thrive, collaborate to the full, and be resilient.
How are insurance businesses celebrating #IWD2023?
While the drive to create more equitable cultures cannot be limited to a single day, it's impressive to see how IWD has become an event marked in the calendars of businesses across every industry sector. Fort noted that at McGill and Partners, the brokerage is proud to celebrate women every day - and particularly on International Women's Day.
"We believe strongly in a diverse and inclusive working culture that delivers results for our clients and makes it a truly special place to work," she said. "Our ethos is to 'act with intent' and ensure the work we are doing on inclusivity encourages more women in the insurance industry.
"This year, we will be showcasing some stories from our female colleagues externally on LinkedIn and will be taking time to celebrate the incredible women that we have working at our firm. This year's theme on embracing equity is very well aligned with McGill and Partners' ethos to celebrate difference and recognise that each individual has different circumstances, and, as an employer, we must allocate the exact resources and opportunities needed to reach an equal outcome."
Forming DE&I communities – a critical next step
HF has taken a similarly proactive stance to engaging with the ongoing conversations around increasing diversity, equity and inclusion (DE&I) initiatives. Fox highlighted that the insurance law firm recently formed a Women at HF community, while the team has been working hard to prepare for its first post-pandemic in-house event on March 8.
"We have a fabulous speaker and a panel of brilliant HF women talking about their experiences and answering any questions, followed by networking," she said. "We've also recorded a series of videos to be released throughout the week, including promoting the network, a roundtable discussion, and individuals reflecting on what #EmbraceEquity means to them as well as women who have inspired them. So – a lot going on with representation across the business, both male and female."
HF has even gone one step further, creating its own theme for the year - #Connection - focusing on building relationships and support networks within HF to get a greater understanding of people's needs and challenges. It's been really inspiring so far, she said, and she is excited to see how the group develops.
For Murrow and her team at Allianz Trade, their underlying ambition is to build a workplace where everyone can succeed.
"We are celebrating our diversity and our female leaders in a global employee and social media campaign," she said. "And for UK & Ireland colleagues, I've invited para-athlete Louise Sugden to discuss her Paralympics experience, and created an internal video to highlight inspiring women colleagues."
What are your thoughts on DE&I in insurance? Please feel free to share your comments below.