"Brokers are vital to what we do" | Insurance Business UK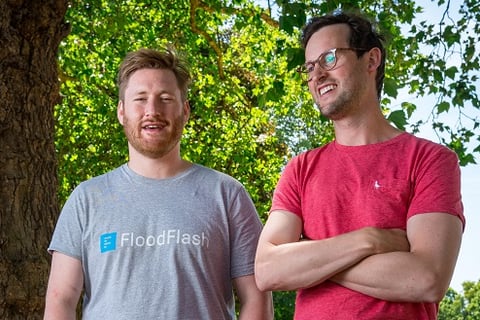 Insurtechs, much like robots capable of doing someone's job, are at times feared as taking insurance brokers out of the picture. While that may be the case for other disruptors, London-based start-up FloodFlash isn't pitting itself against customers' trusted brokers; in fact, the insurtech acknowledges the crucial role of brokers in the equation.
In an interview with Insurance Business, FloodFlash co-founders Ian Bartholomew (pictured, right) and Adam Rimmer (pictured, left) opened up about their relationship with brokers and also discussed the appeal of parametric or event-based insurance as well as their wholehearted support for efforts towards flood resilience and risk management.
Officially launched in January 2019, FloodFlash has covered nearly £10 million of risk since it started trading. The promise? A sensor-based product designed to enable fairly priced and no-exclusions coverage. And being a market entrant meant the lift from others is significant.
"Brokers are vital to what we do," noted Bartholomew. "They have invaluable relationships with the businesses that FloodFlash was designed for, so they have a massive role in bringing it to the right market.
"We're also looking to sell something that's new, which means it's a bit different. By bringing brokers that customers trust into the equation, it's much easier to have a conversation about a new product."
In Rimmer's view, the start-up – which has a portal for brokers – is another addition to a broker's toolbox. He also thinks technology in general is opening up huge opportunities to close the protection gap, not just with what FloodFlash is doing in flood but across the board.
Why parametric?
When asked what they think is drawing customers to their offering, Bartholomew said there are quite a few reasons why parametric insurance has been found to be a solution worth paying for.
"For brokers and customers, the obvious answer is that we can provide quotes for businesses and landlords that have otherwise been unable to find cost-effective cover," he told Insurance Business. "This means that brokers no longer have to leave their clients with a gap in their coverage, and commercial property owners can find the cover they need that is unavailable under schemes like Flood Re."
Rimmer, however, highlighted that roughly 30% of their business comes from customers that are able to find flood cover elsewhere.
"For those people it really is a case-by-case basis," he explained. "For some it's the flexible approach to policy design that allows customers to tailor the policy (and their premium) to their budget. This is good for businesses that have invested in property-level protection because we can offer cheaper premiums in those instances, something we haven't seen from more traditional insurers.
"For others the rapid and transparent settlement is a big draw, particularly if they've had a drawn-out loss-adjustment process in the past."
Rimmer also acknowledged: "It might not be right for every business, but there are many that will benefit from one of our policies, when we've seen stats that 52% of businesses in floodplains don't have any property flood cover at all."
In addition, each policy written by FloodFlash is tailored to fit the flood risk of the individual property. Pricing is also based on risk, which the start-up believes is the fairest way to cost insurance.
"If the risk changes either way due to more accurate flood mapping or the installation of flood defences, then our pricing models take that into account at renewal," asserted Rimmer. "We therefore don't see the loyalty penalty applying to FloodFlash because it's not a factor when our policy pricing is designed."
Encouraging resilience
FloodFlash, which is massively endorsing the initiatives aimed at making homeowners and businesses more resilient at a national scale, provides policies that encourage insureds to consider investing in resilience.
"By installing flood defences, customers are able to bring their costs down because they are able to choose a greater trigger depth," specified Bartholomew. "If a customer decides to install defences five years into a policy with us, then we're all for it because it helps protect their business and keeps them in control of the costs."
He also offered insights into the Environment Agency's (EA) proposed flood and coastal resilience strategy for England, saying they believe in the science that sits behind the long-term plan.
"The ongoing risk management efforts of the EA are only going to get more important as time goes on," declared the FloodFlash co-founder. "That said, we think that this is only part of the puzzle. We wholeheartedly support the rising number of organisations that are considering risk at every level.
"The national and regional resilience strategies are another piece, but home and business owners should not neglect thinking about measures like property-level protection and insurance to complete that puzzle. As [EA chief executive] Sir James Bevan recently said, 'it's about risk management, not avoidance' and everyone should bear a small amount of responsibility for managing their risk."