Flood-hit Wainfleet receives aid ahead of surge in insurance claims | Insurance Business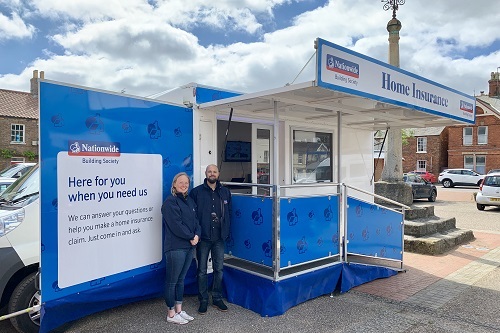 With 40-60mm of rain forecast to fall today or tomorrow, flood warnings remain in place for inundated Wainfleet. The good news is that those in the insurance industry are lining up to help – including the likes of RSA and Crawford & Company.
"We are doing all we can to help the people of Wainfleet get back on their feet as soon as possible," said RSA chief claims officer Karl Helgesen in a statement sent to Insurance Business.
"We have teams of staff on hand in the area and our emergency response van is set up in the centre of town. We are happy to assist anyone, whether they need a cup of tea or help with their insurance, whether they are our policyholders or not."
The Nationwide-branded van (pictured) can be used by residents to register their insurance claims and discuss any existing ones. It also serves as a venue for general advice even for non-affected householders and non-RSA clients. Features of the van include facilities for making hot or cold drinks as well as a charging station for phones and other devices.
Meanwhile claims management giant Crawford & Company, which has surveyed the area using drone technology, assured that the uplift in claims is all within capacity.
"We are in constant contact with suppliers around drying out equipment, alternative accommodation, etc., to ensure we can respond promptly to any further spike in claim numbers," noted client account director John Humphries. "Our priority is helping people who are able to access their properties to commence the claims process.
"Access is improving but many homeowners will not be able to return to their property until Friday. We expect to have a clearer picture on claim volume as residents return to their properties and submit claims to their insurers. We are prepared for this eventuality."
In the meantime Crawford will continue to monitor the situation, providing further updates as appropriate.
Yesterday, in a separate but related development, the Environment Agency said it will be reviewing and updating the flood risk management plans for the river basin districts (RBDs) in England as well as the English parts of the RBDs located partly in England and in Scotland or Wales.