"It's about risk management, not risk avoidance" | Insurance Business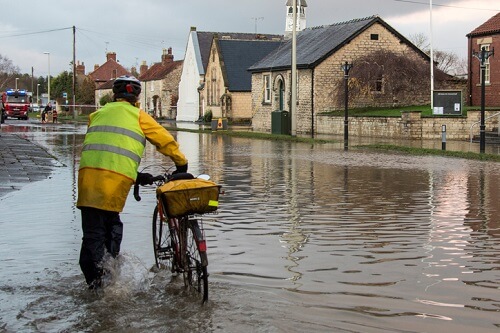 Aside from shelter, nearly all our other necessities face flood risk.
That was one of the points brought to light by Environment Agency (EA) chief executive Sir James Bevan when he opened this year's Flood and Coast Conference in Telford yesterday. In his speech, Bevan talked about "climate emergency," the need for resilience, and the EA's proposed long-term plan for England.
"I said 'climate emergency' because it is, and because we all need to wake up," asserted the CEO. "We need to wake up to the fact that the changing climate means we may not have enough water in this country in 20 years' time – what I recently called the Jaws of Death. And we need to wake up to the growing danger that climate change poses in relation to flooding and coastal erosion."
Bevan acknowledged that while not everyone is at direct risk of their homes being hit by floods, another problem exists.
"Almost all the other things we need to live a normal life – electricity, water, mobile telephone connections, internet access, roads, railways, hospitals, and supermarkets – are at risk of flooding," he stated. "Over two thirds of people in England are served by infrastructure located in or dependent on areas at flood risk."
The conference – which is in its fourth year and runs until tomorrow at the Telford International Centre – will span discussions on areas such as infrastructure resilience, partnership working, community collaboration, and incident response.
Bevan also offered an overview of the draft national plan, which is currently undergoing consultation before a final version is put forward for government approval.
"It's about both flood and coastal erosion, because though they are different things they are closely linked, and are both being driven by the same thing: climate change," noted the EA chief.
Bevan stressed: "It's about risk management, not risk avoidance, because while we can reduce the risks of flooding and coastal erosion happening and reduce the impacts when they do, we can never prevent all flooding or coastal erosion. Nature will always be stronger than us, which is why it's always better to work with nature rather than against it.
"And it's a strategy, which my dictionary defines as a plan of action designed to achieve a long-term aim, because any successful approach to tackling flood and coastal erosion has to work for the long term and come with a plan to achieve the aim we want. And that, ladies and gentlemen, is what this strategy is designed to do."
You can read about the plan here: Proposed flood resilience strategy gains insurance industry backing
Meanwhile the EA-convened Flood and Coast Conference 2019 features 80 exhibitors and more than 200 speakers, including the Intact Centre on Climate Adaptation's climate resilience director Natalia Moudrak and Met Office chief scientist Professor Stephen Belcher.