Reaction pours in as insurance research makes case for flood defences | Insurance Business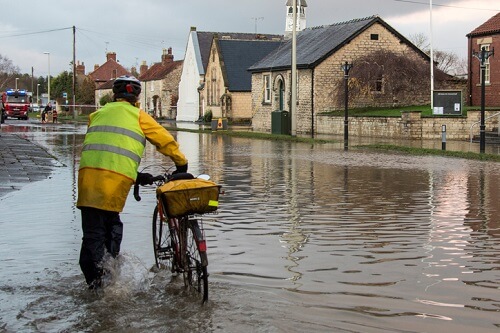 In case anyone needed more convincing, new research on the benefits of river water defences has been released by Flood Re at the "Building a resilient future for the UK's property insurance market" conference organised by the Association of British Insurers (ABI).
Conducted by Risk Management Solutions (RMS) on behalf of the reinsurance scheme, the study quantified the financial contribution of the British network of river barriers and defences based on thousands of simulations of weather events.
It found that on an annual basis damage worth £1.1 billion is being prevented across the UK, thanks to inland flood defences. The research commissioned by Flood Re also cited residential properties as benefiting from 42% of the average annual savings.
"Since our launch, almost 250,000 properties at risk of flooding have benefitted from the peace of mind provided by Flood Re," stated Flood Re communications and transition director Dermot Kehoe. "However, Flood Re will only be around for the next 20 years.
"This research shows just how vital it is that investment in flood defences is maintained in the future so that householders will not need to live in fear of flooding after Flood Re has gone."
Last month a proposed flood and coastal resilience strategy by the Environment Agency outlined the need for an average of £1 billion to be invested annually in traditional flood and coastal defences and natural flood management in England. The proposal is currently undergoing consultation.
Read more: Proposed flood resilience strategy gains insurance industry backing
Meanwhile, in response to the modelling unveiled yesterday, ABI general insurance policy director James Dalton said "there is a clear financial argument for investing in flood defences."
He noted: "The barriers, walls, and natural defences that currently prevent greater damage being done by the UK's rivers during times of extreme weather make economic sense, but they must keep pace with the threat if they are to continue being effective.
"It's essential the UK government sticks to its ambitions on flood defence spending and doesn't let the lack of severe flooding in recent years lull the country into a false sense of security."
Concurring, AXA Insurance managing director of underwriting & technical services David Williams pointed to the "need to ensure that the government's commitment to a flood defence spending continues unabated," and that hopefully the released findings support that.
Also expressing similar views is Allianz Insurance property insurance head Paul Higham, who has shed light on why sustained funding from the government is critical.
Higham explained: "Experiencing a flood can be a devastating experience for households and businesses, so government investment in future long-term flood resilience is hugely important. The insurance industry has a key role to play by helping customers to reduce or mitigate future loss but this has challenges.
"There may be home and business owners who ideally would like to move towards flood resilient methods of protecting their property but this requires upfront investment. For this reason, continued government funding remains essential."
For RMS global managing director Daniel Stander, decision-useful, analytical insights should form the basis for effective public policy. "Thanks to this study, what we now have is robust methodology for demonstrating the return on investments in resilience," he commented.
AXA's Williams added: "Experts from DEFRA (Department for Environment, Food & Rural Affairs) and other organisations have always told us that investment in flood defences provides a financial return far greater than the initial outlay, and this work shows clearly the real benefit delivered."