Three top insurers make major commitment | Insurance Business UK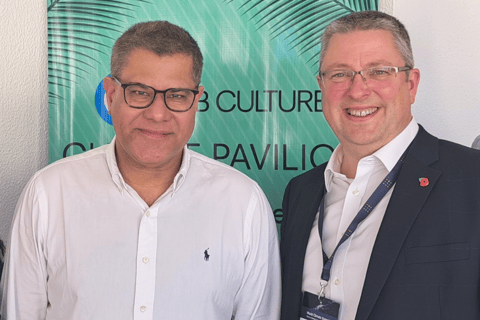 Three top UK insurers have added their weight behind the Build Back Better Scheme from Flood Re.
Andy Bord (pictured right with Rt Hon Alok Sharma MP) announced at the World Climate Summit that commitments have been made by Hiscox, RSA and Covea. The initiative, which is a joint commitment by the insurance industry and the UK Government to promote both the affordability and availability of flood insurance, ensures insurers offer customers access to reimbursement costs of up to £10,000. The funds, which can be claimed back by insurers from Flood Re, can be used to take steps such as raising electrical sockets, non-return valves and self-closing air bricks, as well as implementing flood resistant doors and more.
"Helping customers to better protect their homes from flooding is in everyone's interest," said Tim Slattery, personal lines underwriting manager at Hiscox UK. "Claims of this nature are distressing and disruptive and often lead to a great deal of waste and demand for new materials as the damage is repaired. This practical and innovative scheme will elevate the resilience of UK housing stock and help those who are affected by flooding return to their normal lives more quickly."
The three insurers join the likes of Ageas, NFU Mutual, Aviva, Lloyds Banking Group and LV= as having made the commitment.
"It's clear that climate change is causing more frequent and severe weather events to take place, and we want to support our customers in protecting themselves against this increasing risk," said Suzy Tiffany, personal lines claims director at RSA. "It's no small task, but it is important that the UK's housing stock is futureproofed by strengthening flood resilience. The Build Back Better scheme works towards that goal, and we're delighted to be a part of it."
Meanwhile, Bord described UK insurers as "leading the way" in helping householders.
"To have already secured the commitment of around 60% of the UK's property insurance market with 8 of the UK's major insurers, stands testimony to the commitment of the insurance industry to do what it can in the wake of climate change and really make a difference to customer outcomes," he said.
"We are confident that more insurers will come on board in the next six months and that Build Back Better will soon be a standard offering within UK home insurance policies.
"The recent extreme weather across the UK this year has served to underline the impact that changing weather patterns are having in the UK, with one in four UK properties now predicted to be at risk of flooding from climate change. Increasing the resilience of the UK's housing stock and reducing the trauma experienced by those being flooded has never been more prescient."