Scotland fire alarm changes: Insurers react | Insurance Business UK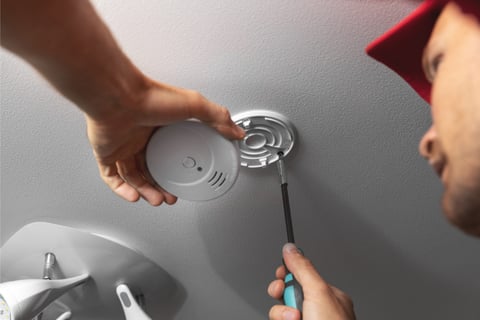 Scotland's leading home insurance providers have assured policyholders that their coverage will not be invalidated should they fail to meet the new smoke alarm regulations that the government is set to implement on February 01.
This comes amid concerns that non-compliance with the legislation – which will require homes to be fitted with interlinked fire alarms, with a smoke alarm in every room and hallway – will result in the invalidation of home insurance claims.
"As an insurer, our core purpose is protection and, with this in mind, we support the installation of interlinked alarms to help people evacuate their homes safely if required," Dougie Barnett, customer risk management director at AXA, told The Herald. "This is an important change for everyone to make, including developers of new build properties."
"We encourage installation as soon as possible, however, AXA will not invalidate a home insurance claim for existing customers who haven't yet complied with the new law in Scotland," he continued.
Read more: Home insurance premiums dip slightly in past year
Aviva has taken a similar approach, with a spokesperson telling The Scotsman: "We do not have any specific requirements relating to fire alarm protection within our standard home policies and will not be making any changes as a result of the new legislation."
"In the unfortunate event of a fire in a property, the policy cover will operate as normal, subject to the terms and conditions of the policy," the spokesperson added. "However, we would encourage all customers, regardless of where they live, to fit interlinked smoke and heat detectors in their home to help protect their family, possessions and property in the event of a fire."
Read more: Scotland's insurance industry: what's needed?
Labour's housing spokesperson Mark Griffin said his party welcomed the legislation but has called for a formal delay amid concerns about the legislation's impact on insurance coverage.
"Does the Cabinet secretary accept that insurers will have every right to interpret the legal enforcement date and the standards as the one in law, and relying on them, maybe not being likely to ask questions, doesn't give homeowners the assurance they deserve," he asked parliament on Wednesday.
Housing secretary Shona Robinson rejected the idea that the law would be delayed again, saying the alarms were available for purchase and delivery for those who still need to install the devices.
Griffin, however, also expressed concerns about the cost of installing new alarm systems, which he said people could not instantly afford. According to The Scotsman, the cost for installation will be "at the very least £200."