CEO Mike Bruce on GRP's acquisition | Insurance Business UK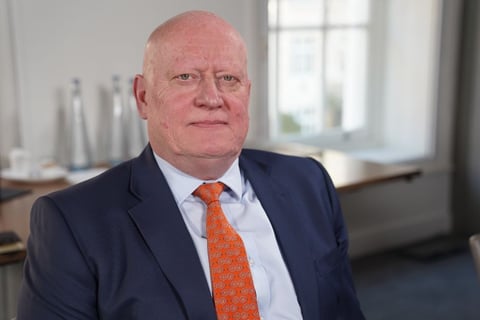 As CEO of an insurance group that has completed 100+ M&A deals – among them such weighty titles as Marsh's UK Networks business and WTW's Northern Ireland commercial risk and broking business – GRP's Mike Bruce (pictured) knows better than most what a successful acquisition looks like.
Read more: Brown & Brown swoops for Global Risk Partners
GRP recently found itself on the other side of the M&A equation, however, becoming part of the US-based broking giant Brown & Brown and, discussing the deal, Bruce noted that the alignment between the businesses ran the whole way through the transition. It was in November of last year, he said, when the group was fielding several sale inquiries that he had the opportunity to meet with J. Powell Brown who was in London at the time.
"We had a one-hour breakfast meeting that took three and a half hours because we just found ourselves talking about all sorts of things," he said. "And it was fairly clear that the businesses were hewn from very similar rock in terms of our principles around honesty and integrity, how we operate with customers, our view of having a very much decentralised sales and service model, our customer focus and our focus on working with our carriers.
"[…] As soon as I met J. Powell, it was obvious we were very similar in terms of our business outlook and individual outlook. And it just seemed the opportunity was right for GRP to move from being private equity-owned, as after having been fortunate to have two very supportive private equity partners, I just felt the time was right for the business to move to the right owner with a longer-term view on the ownership of the business."
From that initial chat, the groups' conversation progressed quickly and positively, he said, and they exchanged contracts on the first of March, completing the transaction on the first of July. GRP's M&A model has always focused on moving quickly and with absolute integrity, Bruce said, and it soon emerged that Brown & Brown had a very similar ethos to dealmaking. Having that aligned ethos of "our word is our bond" meant the deal was a remarkably pain-free process for both sides of the equation.
"I think we've been very fortunate, we've really got the best of both worlds here," he said. "You've got a long-term owner with scale, deep resources and deep capabilities that we can share, but also we don't have the short-term pressure of integration and cost reduction and all the challenges they bring to an organisation. As far as I'm concerned, we've really landed on our feet."
It's an outlook that is mirrored by the wider GRP team, he said, many of whom had the opportunity to meet and shake hands with J. Powell Brown and his brother P. Barrett Brown when they completed a whistle-stop tour of the UK in March. During that tour, it was made very clear that Brown & Brown is GRP's forever home, which resonated strongly with the group's team, as did the range of new opportunities and resources that the deal opens up to them.
Brown & Brown is evidently a very colleague-focused organisation, Bruce said, and has already displayed how keen it is to translate that approach into real action, not least through its shareholder structure. About 60% of the broking giant's US teammates are shareholders in the business and GRP will be rolling out a similar scheme over the next few months, albeit adjusted for the UK's differing tax regulations.
"The principle of wealth creation for all members of GRP is one that we're pushing out very strongly," he said. "And the feedback so far has been very positive. It's very much a key tenet of Brown & Brown's culture and strategy. It's all around individual wellbeing and also individuals' wealth creation, to make sure that they give all colleagues an opportunity to have a piece of the pie, which is great. And if you look at some of the returns on Brown & Brown shares historically, it's a very positive story."
Now as part of Brown & Brown, GRP has a busy year ahead but Bruce emphasised that its considered approach to growth remains very much the same. Over 100 acquisitions in, he said, dealmaking is still never about putting a flag on a map for the group but rather around having the right conversations with the right businesses – something that is all about timing.
Read more: GRP celebrates 100 acquisitions milestone by acquiring new hub business
Since Bruce joined GRP in 2015, the group has done some 96 deals, which he believes is a testament to the fact that the business has a very well-defined and easy-to-explain model that resonates strongly with those who have an entrepreneurial ethic. Similarly, he said, Brown & Brown has a very successful M&A model which hinges on finding the right businesses with the right cultural fit, as financial strength, great leadership and solid operations tend to build on that foundation.
"As ever, we have a nice pipeline that we're cracking on with, which is good," he said. "You will see that continuing with M&A - that's one of the reasons Brown & Brown invested in GRP. However, being owned by a business with this longer-term view is different to the private equity view and I think that will maybe bring some other sorts of businesses that we didn't do much M&A on under private equity ownership into focus.
"MGAs are one example. We have done some MGA [deals] but generally, with MGAs, you do need to take a longer-term view on your return and, with Brown & Brown, we have that. And we've typically looked at some businesses which are very good, but we couldn't quite get the returns under private equity ownership. Certainly, there are a number of businesses we've already engaged with since the deal who maybe weren't comfortable playing in a private equity environment. And now we're part of Brown & Brown, those conversations have started again."
Of course, this doesn't mean GRP will be buying these businesses in the next week or month, he said, highlighting that one of the group's recent transactions was the culmination of conversations that started four years ago. It's all about staying in touch and keeping the dialogue going because the time has to be right for both parties.
"So, really there will be no change in our strategy," Bruce said. "It's interesting because I recently got an update looking at Brown & Brown's strategic objectives for 2022/2023 and though the terminology may be slightly different, they were very similar to GRP. Our strategy stays the same – it's organic growth, it's M&A growth, we're looking to simplify our business using technology, we're data-driven and we're looking to continue to develop our colleagues. Those are the five pillars of the strategy I put together three years ago, and they're staying in place."