CEO of Gallagher in Ireland on how major expansion came about | Insurance Business UK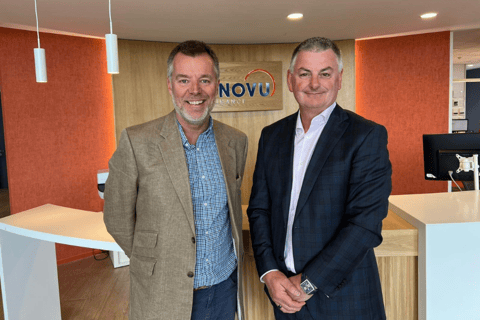 The future is what CEO Ronan Foley and his team at INNOVU Insurance are looking forward to – their future leading the charge of Gallagher's expansion into the Republic of Ireland, following last week's news of INNOVU Insurance's acquisition by the broking giant.
For Foley (pictured right), who will continue to head up the business as CEO of Gallagher in Ireland, the deal is not only an incredibly exciting opportunity but also a natural next step. Founded in 2018, in response to the consolidation happening in the broking market in Ireland, INNOVU Insurance was established by Foley and the PE investment firm MML Growth Capital Partners – and finding the right partner to take the firm to the next level of growth was always part of the plan.
"Discussing what the right partner would look like was a crucial stage," he said. "So, we decided to look at a competitor process to explore the best options for our business, staff and customers that would give us a further platform to grow in Ireland. Those first three years went exactly as planned, we hit the right levels in terms of size and growth… but we had big ambitions to grow the business beyond that. The Gallagher opportunity came out of this process and topped the rest as the best opportunity."
Five key areas set Gallagher apart from other potential partners, Foley said, and the first was cultural fit. The team liked what Gallagher had to say, and got along very well with Michael Rea (CEO of Gallagher Retail, UK & Ireland, pictured left) and Daniel Cowley (head of M&A, UK & EMEA). Having that cultural fit there from first doors made for a strong start.
The very DNA of Gallagher was another critical consideration, he emphasised, as the broking group's designation as one of the world's most ethical companies greatly impressed him and the team. The group's approach to people, staff, clients and communities all aligned very closely with INNOVU's own ethos, and was a key consideration in them selecting Gallagher as the right partner.
The third focus for Foley was making sure that any deal represented the best fit and opportunities for both INNOVU's 135-strong team regarding their future careers, and its clients in terms of opportunity and choice.
"The other two areas were the prospect of introducing Gallagher on the ground in Ireland, and the commitment to grow the business here led by our existing team was a phenomenal opportunity," he said. "To have the backing of one of the world's largest insurance broking names and access to that capacity, expertise and choice for our customers was certainly an opportunity that we liked.
"And we felt the market was ready for it, for what is effectively a new entrant on the ground. So, those five key areas combined with where my head was at seemed to tally well in terms of how we all got on."
There's a lot to look forward to as the deal settles in, Foley said, and three critical areas of strategic focus are holding his attention at the moment. The first is to get the basics done right by introducing the businesses together and helping them get to know each other fully. That process has already started, and he is enjoying seeing it take shape.
Then the emphasis will be on leveraging the great strength of Gallagher to evolve the business in Ireland through a blend of organic and inorganic-led growth and expansion. After that, it's all about reintroducing the business to customers and staff together for the first time in Ireland with the ambition of making Gallagher the go-to broker in Ireland within the next three-to-five years.
As somebody whose background is firmly rooted in insurance and whose career has seen him take on a variety of senior leadership roles in insurance businesses across both the UK and Ireland, Foley has first-hand experience of the ethos that it takes to run a business balancing both acquisitive and organic growth. The key, he said, is understanding that insurance is a profession built on relationships.
"Business is built on relationships," he said. "It's all about who you work with, it's the customers you meet, it's the business partners you [operate alongside] – and that's no more important than here in Ireland. To meet and get to know Gallagher at this early stage and now to be working with them in Ireland and representing the future of Gallagher in Ireland is just the perfect fit."
Foley's relationship-centred approach to insurance broking is mirrored in the growth that INNOVU enjoyed across Ireland – as reflected in each of the five major M&A deals it has completed since 2019. He noted that the team takes great pride in working with like-minded businesses to create a solid cultural fit and this fit is at the forefront of every exploratory conversation they've had with potential vendors over the years.
Considered and measured regional expansion is also on the cards, supported by its M&A ambitions and its dedicated approach to strong organic growth. The broker has a strong presence in the Midwest and Southeast at the moment that has worked out very well for it, he said, but now it's looking to expand its reach across the whole of Ireland, should the right opportunities come along to do so.
"We're looking forward to the future," he said. "We've been on this journey for the last three-to-four years and it has been great fun. And when you're looking to partner with someone, it's great to get an opportunity where everybody walks away happy and excited about the future. And I'd also say that this [deal] creates huge opportunities for the sector in Ireland as well, as it's a huge change to the insurance market but one that creates increased options for customers."
What Foley is especially delighted about is the increased opportunities that this deal offers his team as they look to the future as part of a global business. They know they're in the right place, he said, and they can see the opportunities that are ahead of them going forward. And that was absolutely key to the deal, that the team was happy with whatever decision was made.
"We're in the perfect position to grow this business now," he said. "And I'm proud of the staff, of the customers and of the new entities that joined us along the way. Because they've invested in us, they've stuck with us and they've grown the business. We've had the best year ever growth-wise in the last four years this year which, coming off a pandemic, is pretty impressive. I'm so very proud of our staff and everything they've done to achieve this because we wouldn't be able to get to this point without their support and hard work."