Gallagher's Ronan Foley goes behind the scenes of major deal | Insurance Business UK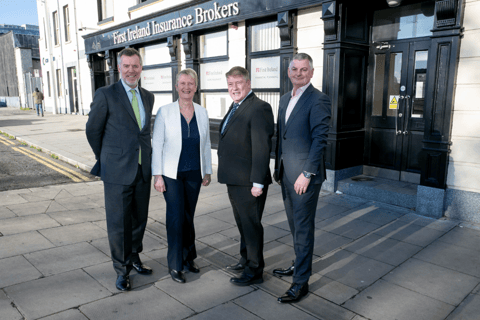 Since it first laid solid roots in the Republic of Ireland's insurance market with the acquisition of Innovu Insurance (since rebranded to Gallagher), the presence and reach of the global broking giant Gallagher in Ireland have accelerated rapidly.
Last week, the fast-growing business welcomed another feather in its cap, announcing its purchase of First Ireland – a deal that brings a client base of over 35,000 customers to Gallagher and boosts the brokerage's headcount to over 275 people across the country. The acquisition is one of tremendous strategic importance for both businesses, noted Ronan Foley (pictured right), CEO of Gallagher in Ireland, effectively giving Gallagher a written premium of about €140 million in Ireland and establishing it as the fourth/fifth largest broker in the country.
"We've really been looking and admiring [First Ireland] for a number of years," he said. "I knew the business back when it was originally Rooney Gallagher before it established itself as First Ireland and that's going back a number of years. It's a fine business and we were lucky enough to get involved in a process whereby they were looking to the future in terms of scaling the business up.
"We liked them very much when we met them initially as they have a very similar culture. And they are strategically important to us in terms of having a presence in Dublin and a good mix of commercial and personal lines business. So that combination made us progress our initial interest and we were lucky enough that they chose us and it has worked out for both parties."
First Ireland – Everything you need to know
Founded in 1982, Dublin-based First Ireland employs over 120 risk professionals and offers a range of commercial and personal lines insurance, as well as life and pensions products. Under the terms of the deal, the First Ireland team will become part of Gallagher's UK & Ireland Retail division, and existing joint MDs Tony Gill and Linda Gallagher will remain with the business – a consideration that was critical to Gallagher's interest in acquiring the firm.
"Tony Gill, Linda Gallagher and the wider team of Keith Gill, Conor Lynes and Sarah Sheridan were all crucial to the deal," he said. "When you look at businesses on a regular basis, [you know] the strength of that management team is key. And the fact is that they're ambitious and want to grow the business and they see this as a hugely positive development for them and an opportunity to scale the business up even further and for more success.
"So, the fact that the management team are still with the business and are happy to move with the business during this acquisition is absolutely crucial because, quite honestly, we wouldn't be interested in the business if they weren't."
From the very early conversations with the First Ireland team, it was clear that there was a strong element of trust on both sides which Foley holds as essential to the success of any M&A considerations. That trust has to be the foundation on which the relationship is built, he said, and on which every following strategic or operational decision is grounded. Having that there at the beginning made for a strong start and will leave the businesses in good stead as they navigate the post-acquisition process.
"On the integration, I think it's important that we settle into getting to know each other and getting to know each other's businesses," he said. "There's no rush on this. And then we will sit down with management over the next number of months, and decide what works best in terms of what we can learn from them and what they can learn from us, and what makes sense to move forward in terms of integration. So, we will agree on that plan at the right time."
Gallagher Ireland – rapid growth
Gallagher's rapid growth in Ireland is showing no signs of slowing down and Foley emphasised that the business's development plans can be broadly siloed into three key areas of focus – M&A, people development and organic growth.
Gallagher's M&A proposition is clearly striking a chord with the Irish insurance market, he said, which he believes is in large part due to the strength and reputation of the wider Gallagher brand as the third largest broker in the world. Brokerages looking to scale up are attracted to its global offering – and the assurance it provides that will remain a brokerage post-acquisition. He believes that the business presents the "perfect solution" to these brokers, offering "choice where there probably wasn't choice before."
"We're an alternative to what's out there at the moment," he said. "And right now, I think we're topping the list."
As to what Gallagher is looking for from its potential future collaborators, Foley noted that you can't do every available deal and, frankly, you wouldn't want to. Of the deals that Gallagher has completed, he said, the focus is on attracting like-minded businesses with strong management teams and an appetite for growth.
"And First Ireland is exceptional," he said. "They've got a very strong, well-regarded team, I know some of these individuals going back 30/40 years. But the fact is that we can look at brokers where they've got a combination of commercial, personal, and life and pensions business, and I think we're open to that if the fit is right from a strategic and cultural point of view."
The attraction and, critically, the retention of great staff is also integral to Gallagher, he said, and he believes that the firm's acquisitions are throwing open the doors to new opportunities for talented insurance professionals across the Irish market. Gallagher's global presence enables it to aspire to different things in different areas of insurance broking globally – and he's passionate about the opportunity at hand for Gallagher to offer a "home for life" to its people.
"Because we're such a well-established broker globally and broking is at the forefront of everything we do, we're not a business that's going to be flipped to a private equity firm or change hands in three years' time," he said. "We're here in broking and insurance for a good while, so the careers that people can have, if they want to, have just opened up completely for staff."
Last but not least on the business's agenda is organic growth which Foley emphasised sits at the forefront of Gallagher's global aims and ambitions. Organic growth is at the heart of what Gallagher does, he said, so it's important that all the businesses who join Gallagher in Ireland tap into the global ability of the brokerage and utilise its increased services, access to markets, capacity and service levels to the benefit of clients.
"That organic piece [is a key] benefit of being part of the bigger business," he said. "First Ireland will benefit from that, INNOVU has benefited from that since the acquisition back in June. So, that's at the forefront. Because M&A is incredibly important to us but our organic growth is crucial."
What are your thoughts on this story? Please feel free to share your comments below.