Aon celebrates completion of pioneering traineeship scheme | Insurance Business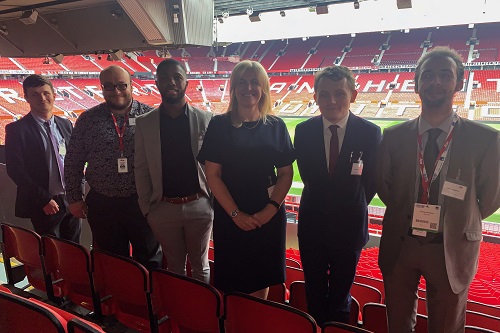 The first traineeship programme to be launched in the UK insurance market has been completed by six 20-somethings, whose feat was celebrated by Aon at last week's British Insurance Brokers' Association (BIBA) conference.
Aon's government-funded 2019 Step Up Traineeship Scheme was a six-week training programme that involved young people not in employment, education, or training (NEETs). Aimed at helping them develop skills in communication, leadership, and resilience, the scheme featured a combination of classroom training and work experience at the broking giant's central Manchester office.
Participated in by the likes of BIBA chief executive Steve White and other senior representatives from across insurance, the event was also graced by the presence of Manchester City Council deputy leader Nigel Murphy and Manchester United Foundation CEO John Shields.
A key message from the gathering revolved around encouraging regional business representatives in attendance to run similar traineeship schemes within their organisations.
"The Step Up programme is the perfect example of how Aon is offering a first-class service for young people," said Shields. "Their approach not only provides trainees with the classroom sessions and qualifications required to start a career but also the practical workplace experience that is so valuable for successful recruitment.
"I for one am proud to have been a part of the programme and to have worked directly with the Step Up trainees through a series of mentoring sessions."
Following the scheme, five of the six trainees have gone on to join Aon through its Go Further Apprenticeship Programme.
"It was a pleasure to attend Aon's Step Up Graduation event and meet the highly capable and enthusiastic young people who completed the traineeship programme and secured a permanent role at Aon," commented Murphy.
"I am passionate about promoting social mobility in my role as deputy leader at the council and it is fantastic to see businesses like Aon supporting young people in the northwest who have found it very challenging to find work. I hope schemes like Step Up continue to inspire other businesses and young people to consider traineeships as a route into a successful and rewarding career."
Meanwhile Jane Kielty, managing director of Aon Risk Solutions, pointed to the group's commitment to being an equal opportunity employer and supporting diversity in the industry.
"Initiatives such as the Step Up Traineeship Scheme provide young people with training and employment opportunities that might not otherwise have been available to them," she noted. "The recruitment of a more diverse group of professionals is key to the future success of Aon and our market as a whole, and we are proud to support these young people in their career development."