Insurers on track with industry diversity push? | Insurance Business UK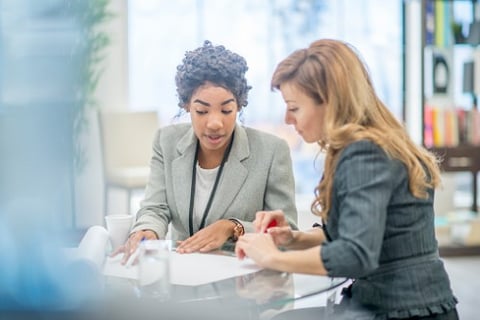 Association of British Insurers (ABI) chair Amanda Blanc believes it is important to match the diversity of the industry's workforce to that of the communities it serves – and from the looks of a new ABI poll, insurance companies appear on track with efforts to be more reflective of their clientele.
Findings of the trade body's second annual talent and diversity survey revealed an increase across all levels when it comes to the proportion of female workers in the insurance and long-term savings industry. Based on firms in ABI membership, the study covered more than 103,000 people.
It showed that in 2018 women made up 54% of the overall roster, outdoing the previous year's 50%. Broken down, the proportion in entry level roles improved to 56% from 54%; management, 39% from 36%; executive team, 27% from 22%; and board level representation edged, albeit at a much slower rate, to 20% from 19% in 2017.
"Improving diversity and inclusion in the insurance industry is a key priority for the leadership of the sector," noted ABI director general Huw Evans. "To make meaningful progress, firms first need to know where they stand. Our survey was established as a practical tool to support our members on this issue and to see so many more involved this time round is an endorsement of our approach.
"Let's hope these early signs of progress on gender equality are just the start."
The 2018 survey saw a more than 25% rise in the number of examined staff. Explaining its methodology, the ABI said the percentages were calculated based on the companies that were able to respond to the relevant questions, and that the figures were based on aggregated company data and not an average across participating firms.
Evans added that becoming a fully diverse and inclusive sector requires organisations to have a strategy. "We remain committed to providing the practical assistance our industry needs to achieve genuine change," he said.
Meanwhile Blanc, who is also EMEA (Europe, the Middle East, and Africa) chief executive at Zurich Insurance Group, commented: "The vast majority of adults in this country are customers of the insurance and long-term savings industry in some way. Matching the diversity of our workforce to the diversity of the communities we serve is essential to our industry's future success.
"Such a change takes time, but the last few years have seen a real shift in commitment at the highest levels of the industry, and at last there are signs the dial is starting to shift."
A Zurich colleague, for her part, believes more remains to be done as part of the business imperative to create a truly inclusive culture.
"While the findings from the ABI's second talent and diversity survey are encouraging and show early signs of change at the top, there is still more we need to do to make insurance a more appealing career choice to people of all backgrounds," stated head of UK corporate affairs Sophie Timms, who cited Zurich's view that a diverse staff is more insightful and more representative of its customer base.
"Being more rigorous on how we identify and recruit people now and in the future, supporting our diverse talent through focused career and succession planning, and listening to our employee networks on how we can build a more inclusive culture – these are just some of the ways we are tackling the challenge," shared Timms, adding that it's about achieving balance and having a progressive approach.
Blanc, meanwhile, stressed that gender equality is only one aspect of diversity, suggesting that it could serve as a springboard for changes elsewhere.
"I am encouraged to see growth in female representation at manager and executive levels, and more women than men continue to join the industry," she said. "This progress needs to be repeated, year after year, if the industry is to become truly diverse.
"And where we make progress on gender, we must scrutinise what is working and why so we can improve diversity across the board – on sexuality, on ethnicity, and more."
The ABI survey does not cover insurance brokers.