Markerstudy Group gets OFSTED nod for apprenticeship programme | Insurance Business UK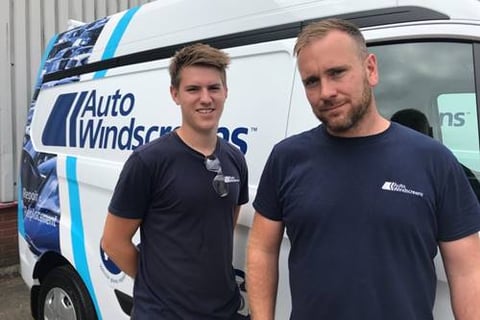 Markerstudy Group has demonstrated progress in all areas of its award-winning ALEX (Apprenticeship Learning EXperience) programme, as affirmed by its first OFSTED (Office for Standards in Education, Children's Services and Skills) results.
Following a three-day inspection at Markerstudy's Chesterfield site, the group secured the nod from OFSTED, with the lead inspector noting: "Apprentices enrol on a programme that will equip them with new skills, behaviours, and attitudes that will benefit them and their employer."
Markerstudy currently employs 28 apprentices – seven in customer service roles within the group contact centre; 15 studying management apprenticeships; and six holding trainee automotive glazing technician positions at Auto Windscreens.
Pictured here are Auto Windscreens apprentice Sam Cox and technician Tom Barker.
"We have strived to go above and beyond in creating enhanced apprenticeships and are extremely proud that OFSTED has recognised our achievements," said apprenticeship programme manager Ewan Freeman.
"In particular, they complemented us on our enrichment training, including an Institute of Customer Service (ICS) qualification and an Institute of Leadership and Management (ILM) Young Leader Award."
All Markerstudy apprentices will complete a Level 2 or 3 apprenticeship in their chosen subject area before graduating from the ALEX scheme.
"The apprentices we've recruited have added significant value to our business and we want to keep developing the programme to benefit both them and the group," added Freeman. "The OFSTED report confirmed our strengths and we have already put in place improvements to advance ALEX further."