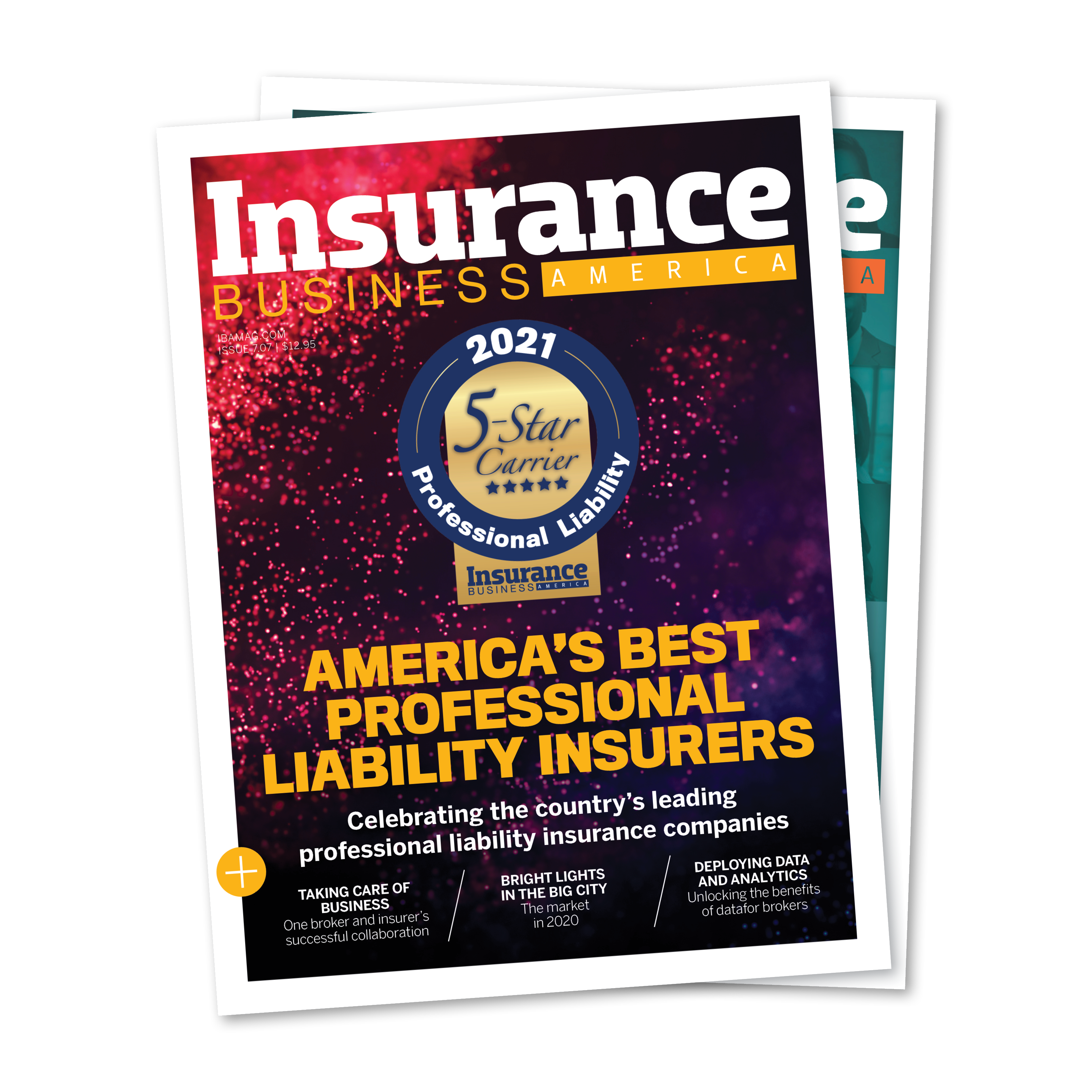 Insurance Business America has engaged the country's top brokers in one-on-one interviews and surveys to determine the leading Lawyers' Errors and Omissions (E&O) products. IBA's inaugural Five-Star Excellence Award in E&O for Lawyers celebrates companies not only with outstanding product offerings, but also first-class broker support and industry knowledge. The Five-Star Excellence Award allows brokers to understand the partners their peers have chosen to present to clients – giving you an upper hand when selecting insurers to work with.

Methodology
Determining America's top insurance products takes a keen understanding of the market offerings – that is why IBA has enlisted the help of thousands of brokers to determine the 2021 Product Awards. Read more about how we determined our winners here.
5-Star Excellence Awards
Allied World Assurance Company
Berkley Professional Liability
CFC Underwriting
Markel American Insurance Company
RSUI
Travelers
USLI - United States Liability Insurance Group
What is lawyers' errors & omissions (E&O) insurance?
Lawyers' errors and omissions (E&O) or professional liability insurance provides coverage against claims of malpractice or negligence. It is designed to protect lawyers and their firms from financial losses stemming from lawsuits filed by clients for perceived errors arising from their practice. Lawyers' E&O insurance typically covers the cost of litigation, settlements, and payment of damages.
Policies are often arranged on a claims-made basis, meaning only claims made during the policy period are covered. Incidents of negligence or malpractice that took place before the coverage is activated are usually not covered, but some insurance companies offer retroactive policies.
What makes lawyers' E&O insurance different from other liability coverages?
As the terms suggest, this type of insurance coverage is tailored specifically to protect those providing legal professional services, including lawyers and law firms. Also called malpractice insurance, E&O policies cover court costs incurred from lawsuits resulting from a legal professional's actions and decisions while practicing law.
Among the most common causes of lawsuits are misfiled or delayed paperwork, errors in professional judgement, failure to follow clients' instructions, and allegations of conflicts of interest or failure to obtain a client's consent. These claims can deal a huge financial loss to both the lawyer and their law firm.
Do notaries need E&O insurance?
Notary errors and omissions insurance is a type of professional liability coverage designed for notary publics. Such policies cover claims resulting from unintentional violation of the law, mistakes and oversights causing public harm, and forgery.
The latest census shows that there are more than four million notaries practicing across the US. These professionals are tasked with handling important documents often serving as an impartial witness. Notary publics validate several documents on a daily basis, including deeds, wills, mortgages, and powers of attorney, exposing them to errors. Seemingly small mistakes can result in huge financial consequences, which makes obtaining E&O coverage vital.
How much E&O insurance do lawyers need?
Different areas of law are exposed to different kinds of risks. For some practices, the level of risk is higher. These include class action, entertainment, intellectual property, personal injury, real estate, and securities law. These areas often require higher coverage limits. Experienced brokers from respected insurance companies will be able to advise on the best type of coverage suited for a law firm's needs.
Do lawyers need E&O and professional liability insurance?
Although professional liability or E&O insurance is not required in most states, it is still best for lawyers and law firms to carry this type of coverage, considering the level of exposure they have. In the US, half of the states require attorneys to notify their clients if they do not have malpractice insurance. Some even require lawyers to sign a written disclosure informing clients that they are not uninsured.
How much is the average E&O policy for lawyers and notaries?
Coverage limits depend on several factors. Chief among these are the areas of practice, the firm's revenue, and claims history. On average, lawyers' E&O policies have a capacity of up to $5 million. For notaries, the limit may start at $100,000 and can top $2 million.
This year in E&O insurance...
Hanover study reveals golden opportunity for insurance agents in E&O
A recent survey found that while nearly half of professional service providers face considerable professional liability exposure, a fifth of respondents say that they do not have any professional liability insurance at all.
Professional liability risks pile up during the pandemic
As companies return their employees to work across the US, and then have to bring them home again as reopening plans in certain states shift in the face of the coronavirus, they face a litany of professional liability challenges.