Insurance Business America issue 5.03 | Insurance Business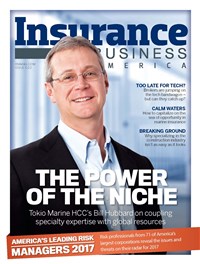 COVER: America's Leading Risk Managers
Protecting major companies from threats of all shapes and sizes, these are the men and women at the forefront of managing the modern business world's litany of growing risks.
OTHER FEATURES:
65 years of success
When Nord Krauskopf started K&K Insurance, no-one could have envisioned how much both he and the company would achieve.
The tech revolution?
From mobile apps to digital signatures to social media content, the broker channel is embracing the concepts it once feared.
A niche success story
Tokio Marine
HCC's Bill Hubbard looks back on his career in specialty insurance, including some extraordinary risk transfer solutions.
Driverless: Pros and Cons
We all know that self-driving vehicles are coming – but will their arrival be a positive or a negative for the industry?
Are you training to fail?
You might be hiring the right people, but if you fail to train them, then you're training to fail.
Purpose-driven and dedicated
Focused on protecting and growing clients, Michael Hotchkiss, of Hotchkiss Insurance Agency, explains how his firm has managed to persevere.