The top 5 states for asbestos exposure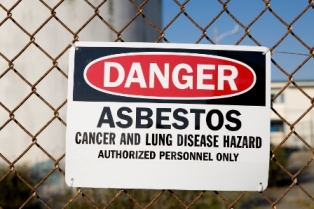 The threat of asbestos-related litigation is not a new one for contractors or property owners, yet it is one that continues to rear its head in courtrooms across the country.
Asbestos litigation, which surfaced in full-swing in the 1970s, actually fueled the first industry shift toward environmental insurance.
"The asbestos issues in the 70s led to the pollution exclusion in the commercial general liability policy," explains Bill Pritchard, president of environmental insurance wholesaler Beacon Hill Associates. "The buying public is now assuming some corporate responsibility, and [ongoing litigation] continues to fuel business."
In fact,
environmental insurance claims
losses were up 12% in 2012, according to AM Best—thanks largely to a growing number of asbestos-related lung cancer lawsuits. That brings the total losses for asbestos cases to a potential $85 billion for the US property/casualty industry, the agency said.
Called the "longest running mass tort in US history" by New York Supreme Court Associate Justice Helen Freedman, asbestos litigation has increased the need for environmental insurance—whether through a pollution liability policy or a separate asbestos-specific policy. Asbestos claims have also fueled the push for environmental policies protecting lenders who work with real estate transactions.
While asbestos is a nationwide problem, there are several states that face greater asbestos exposure than others and insurance producers in these areas would do well to pay increased attention to these issues.
According to data from The Mesothelioma Center, the following five states are home to the most asbestos-connected deaths—and also present more asbestos exposure risks.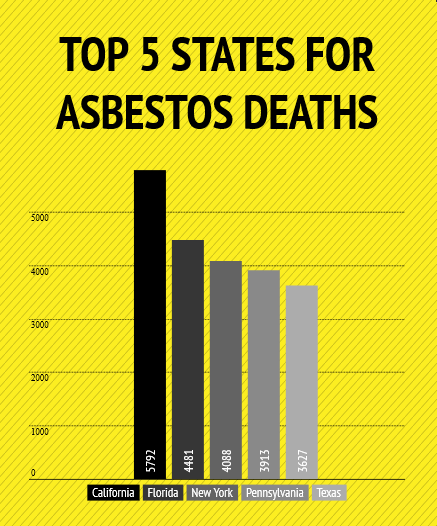 These states are also the most populous in the nation, but The Mesothelioma Center points out that these states pose the most risk to residents as well.
Fortunately, Pritchard notes that asbestos is not a recurring problem for most accounts.
"Asbestos is great in that once you take it out, it's gone," he says. "Something like mold, on the other hand, can grow back."
Business classes particular at risk for this type of exposure include contractors, manufacturers and those involved in real estate transactions, among others.
Pritchard recommends producers partners with a knowledgeable wholesaler or carrier in order to ensure the right forms and coverage are gathered for clients who may be exposed to asbestos and other environmental risks.
Image information source: The Mesothelioma Center, 2011