Fitness instructors, golf pros and yoga teachers all need insurance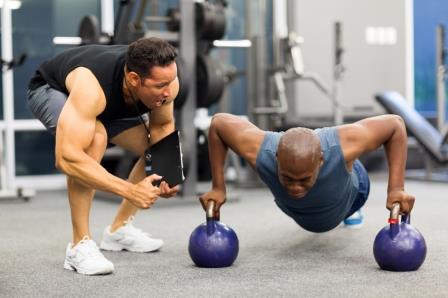 Zumba®, kick boxing, pole dancing fitness, Pilates, tai chi, yoga. Whatever happened to jumping jacks and pushups? No matter what fitness craze strikes your fancy, K&K Insurance is there for you and your clients who lead these ever more popular workouts.
"We insure just about all forms of fitness you can imagine. We sell primarily liability coverage because individual instructors need it to protect themselves. If someone is a personal trainer, and they go to someone's house or meet them at the gym, they should have coverage. If they get a room to use at the health club, and the health club says they need to get individual liability coverage and add the health club to the policy as an insured, that is something we do," said
K&K
Sr. Vice President of Mass Merchandising Mark Beck.
He said K&K insures tens of thousands of fitness instructors. "We've been doing it a long time." Beck said K&K offers a better price for those who are certified by the governing body of their discipline. "We view them as a little better underwriting risk due to the additional education they have as businesspeople."
"K&K offers e-commerce websites so that agents can simply go online and fill out a quick application and purchase coverage on behalf of their clients instantly," said K&K Marketing Manager Lorena Hatfield.
Fitness instructor policies
tend to cover general liability only. "Many of these people don't like to think about their insurance very often, so we offer a two-year policy," Beck said.
"We've been offering this coverage for more than 20 years. K&K has been around more than 60 years. We started with motorsports and it just got easier from there. Once you've done motorsports, fitness instructors are easy," Beck noted.
Nick Pentsos, sr. regional sales manager, said this coverage is also available to people who teach sports, such as offering golf or tennis lessons or clinics.
"When you talk about expertise, it is important to mention that K&K has an in-house claims staff with extensive experience in our very specific sports and leisure activities," said Hatfield. "We are very familiar with the ins and outs of handling claims and resolving issues correctly and as quickly as possible, and that is not something every insurer can say, especially not the standard carriers. This is what we do," she said.
"Our people understand the industry," said Beck. "They won't say to your client 'you do what for a living?' They understand these kinds of businesses and the unique aspects of operating them, like utilizing .waiver and release forms. They are very experienced in the industries they serve.
"From the agent's perspective, working with someone who does just this, nothing else, can be very helpful. Our underwriters can help them through this. If an agent has never worked with businesses like these, we can walk them through what to look for, what to ask for, etc."
While one of
K&K's differentiators
is that agents can go online to find and write the specialized coverage their clients need, the company also accepts written applications and has extensive telephone support. "We can do it the old fashioned way. We have printed applications; we have close to 20 underwriters who are there to answer questions if you need it. Some agents want to do it themselves, some want to better understand it by talking to someone first," said Beck.
In any given year, K&K works with 6000-7000 agents. "Some do one policy, and some specialize in sports and programs like these. We work with any agent who has clients that need specialized coverage of this nature," said Beck.