Size matters: insuring large health clubs and gyms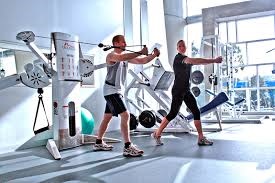 Small, boutique health clubs may be leading the fitness industry in terms of growth, but traditionally large and multi-faceted facilities are still in need of willing and educated insurance agents to advise them.
And that's a fact of life that isn't changing any time soon, says K&K Insurance underwriter Angie Rhoades, who works with health club accounts.
The presence of multiple classes, equipment, daycare facilities and even restaurants and bars in these facilities make them appealing to a wide variety of patrons – particularly those with families or robust employee wellness plans.
"These facilities are becoming more family oriented, which makes the intimidation factor go away and encourages parents to bring their children; oftentimes grandparents will have a membership too," Rhodes said. "That's a real draw for these types of facilities."
Of course, all of these factors can also mean greater issues from a risk and insurance perspective. The family atmosphere, for example, means that daycare facilities onsite will need to be covered by a sexual abuse and molestation policy. And as for those employees working late nights but still desiring to stay fit? Twenty-four hour access to a facility increases safety concerns, and some insurance carriers won't consider accounts with such an offering.
Another thorny issue for these clubs is professional liability insurance for fitness instructors. Rhodes says health club owners and agents alike are often unaware about their responsibilities with regard to E&O coverage due to the employment status of the instructor.
Generally, instructors who have the ability to call a class at a specific time and decide what takes place in the class without the direction of the club owner qualify as an independent contractor. In these cases, instructors should have their own insurance coverage.
"That's something agents may not be aware of," she said.
To eliminate any potential confusion, Rhodes recommends agents take a walk-through of client facilities and make note of special circumstances as needed. Not only does this protect agents from an E&O standpoint, it may help curb potential claims in the future.
"Most [health club] losses come from things that need repaired – a wet area or equipment that was put together too loosely," she said. "These are things that a health club owner may not recognize, and an agent can go in as a pair of outside eyes and say, 'You might want to address these things to reduce your potential for risk.'"
Just because risk is varied and complex for large health club facilities does not mean insuring them is difficult. Agents often find success in approaching these accounts from a programs perspective, securing most necessary coverages from one underwriter or carrier.
Not only does this mean less paperwork for the agent and the insured, it also gives the agent access to knowledgeable and skilled underwriters who can guide them through the nuances of working with a health club account.
"It's a much cleaner approach for the insured and the agent," Rhodes said. "It makes sure the agent doesn't forget anything."